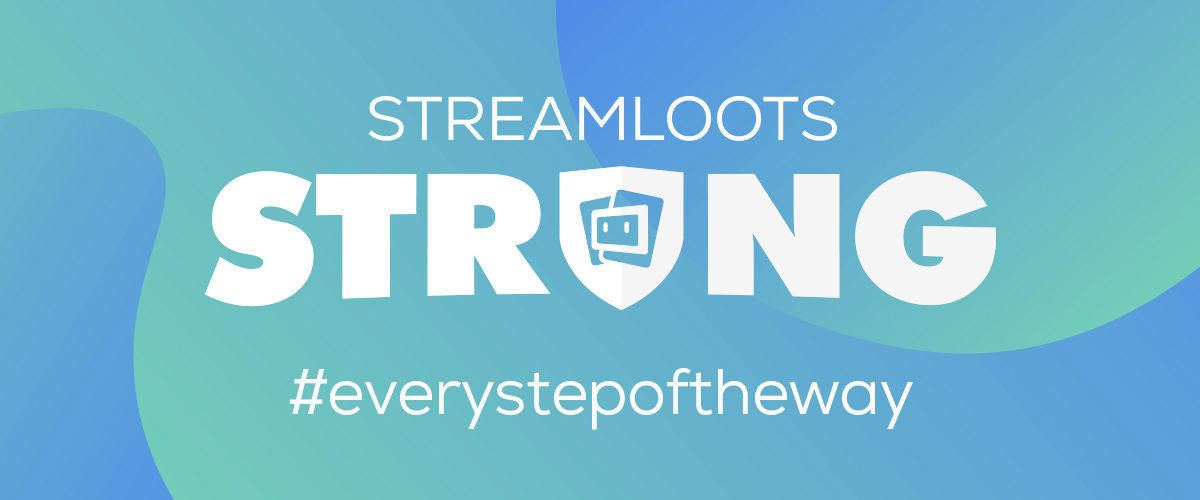 Created in partnership with mental health experts Geek Therapeutics and Mxiety for targeted and affordable care
VALENCIA, SPAIN – December 15, 2020 – Streamloots, a company providing technologies to enhance engagement and monetization of livestream audiences, today announced the launch of a new mental health support initiative, Streamloots Strong. It offers support and subsidized access to the Streamer Mental Health Kit, a program conceived by Streamloots together with Geek Therapeutics founder, Dr. Anthony Bean, and mental health advocate and talk show host, Marie 'Mxiety' Shanley. Streamloots Strong is now available to all of its Affiliate and Partner-level live streamers who qualify, while all others are encouraged to learn more about the Streamer Mental Health Kit directly.
"As we worked with more live streamers, we found that many were facing increasing emotional stress, depression, anxiety, imposter syndrome and a myriad of other mental health issues as a result of the demands of their profession," states Alberto Martínez Guerrero, CEO of Streamloots. "So we collaborated with Mxiety and Geek Therapeutics to create the Streamer Mental Health Kit. It's now our obligation as Streamloots to take it a step further and make the program even more accessible for the live streamers that we support, standing by our vision to provide the tools they need to build their own business, financially and emotionally."
Specifically created for live streamers, the Streamer Mental Health Kit includes resources to understanding mental health, why streamers' own mental health is important, and how they can help viewers understand themselves. The program has a total of more than four hours of video content and includes mindfulness and meditation exercises. It is also expanding with additional content as research continues, offering programs for all who require mental health support, professionals and non-professionals alike.
"Mental health is an issue that is deeply important to me, and knowing where and how to find real help is half the battle," adds Marie 'Mxiety' Shanley. "Whether streaming is a hobby or your full-time job, I believe that the Streamer Mental Health Kit is an important resource that will make a positive difference in your life."
"I commend Streamloots for taking the initiative to not only support the conception of the Streamer Mental Health Kit, but to also harness the power of its growing business to make it more accessible to its network of live streamers," says Dr. Anthony Bean, founder of Geek Therapeutics. "We look forward to continued collaboration with Streamloots in this and future programs."
Geek Therapeutics is a network of mental health professionals who train parents, students, clinicians, social workers, geek culture fans, and gamers on how to use Geek Therapy to unlock the best version of themselves and others. It bridges the gap between geeks and therapists with practical and innovative therapy sessions, using the psychology of geek cultural interests like video games, comic books, movies, tv shows, Dungeons and Dragons, anime, and more, to improve oneself and others around them.
Streamloots Strong will continue to expand and evolve in other areas of health and career support in the future as the needs of its live streamer network take shape.
To learn more about Streamloots Strong, visit land.streamloots.com/strong/. A press kit is available here.
To learn more about the Streamer Mental Health Kit, visit: https://education.geektherapeutics.com/bundles/mental-health-streamer-kit/
To begin using Streamloots, visit and register at www.streamloots.com.
Follow Streamloots on Twitter, Discord and YouTube.
About Streamloots
Streamloots provides technology enabling livestreamers to monetize and enhance audience engagement. The core service provides content creators with customizable interaction cards that their fans can purchase and redeem. More than 50k creators across 20 countries are now using Streamloots to increase their revenue. The company's mission is to create tangible real-time interactions between livestreamers and their fans, and making livestreamer careers possible. The company has raised a total of $7.2 million in funding thus far, led by Bessemer Venture Partners ($5.6M), Europe-based Samaipata ($1M), Adam Draper, and Creative Investment Club, a syndicate of content creator investors, among others. It was founded in 2018 with staff located in Valencia, Spain, and the United States. For more information, visit www.streamloots.com.
About Dr. Anthony Bean
Dr. Anthony Bean is a Licensed Clinical Depth Psychologist, Creator of Geek Therapeutics, video game researcher, and the Executive Director at The Telos Project, a thriving nonprofit mental health clinic in Fort Worth, Texas which focuses on video gamers and their families. He has been consulted as an expert for CNN, Inverse, Wired Magazine, Polygon, and internationally for Gehirn & Geist, while also appearing on Radio, Podcasts, and being a sought after Keynote Speaker and conference speaker in the United States and across the globe. He holds a Doctorate in Philosophy in Clinical Depth Psychology from Pacifica Graduate Institute and specializes in the therapeutic implications of video games and gaming, working with children and adolescents, and the use of video game character identification as a therapeutic technique. He has also authored multiple academic articles, book chapters, and the four books Working with Video Gamers and Games in Therapy: A Clinician's Guide (Routledge, 2018) and The Psychology of Zelda: Linking Our World to the Legend of Zelda Series (Ben Bella, 2019), The Psychology of Final Fantasy: Surpassing Your Limit Break (Leyline Publishing, 2020), and Integrating Geek Culture Into Therapeutic Practice: The Clinician's Guide To Geek Therapy (Leyline Publishing, 2020), while being active on twitter (@VideoGameDoc).
About Marie 'Mxiety' Shanley
Mxiety is a mental health talk show host and Partner on Twitch bringing everything related to mental health together for everyone: expert interviews, personal stories, resources, open discussions and a welcoming community. She is a self-published author whose writing has been featured on To Write Love on Her Arms, The Mighty, TakeThis.org, Yahoo Health, and Medium, and has interviewed over 100 mental health experts, streamers and others. She is a frequent guest lecturer and panelist on topics of mental health, and nominee for Twitch Streamer of the Year 2020 – GameHers Awards. To learn more, visit mxiety.com.
Press Contact
TriplePoint on behalf of Streamloots
streamloots@triplepointpr.com
(+1) 415-608-8501