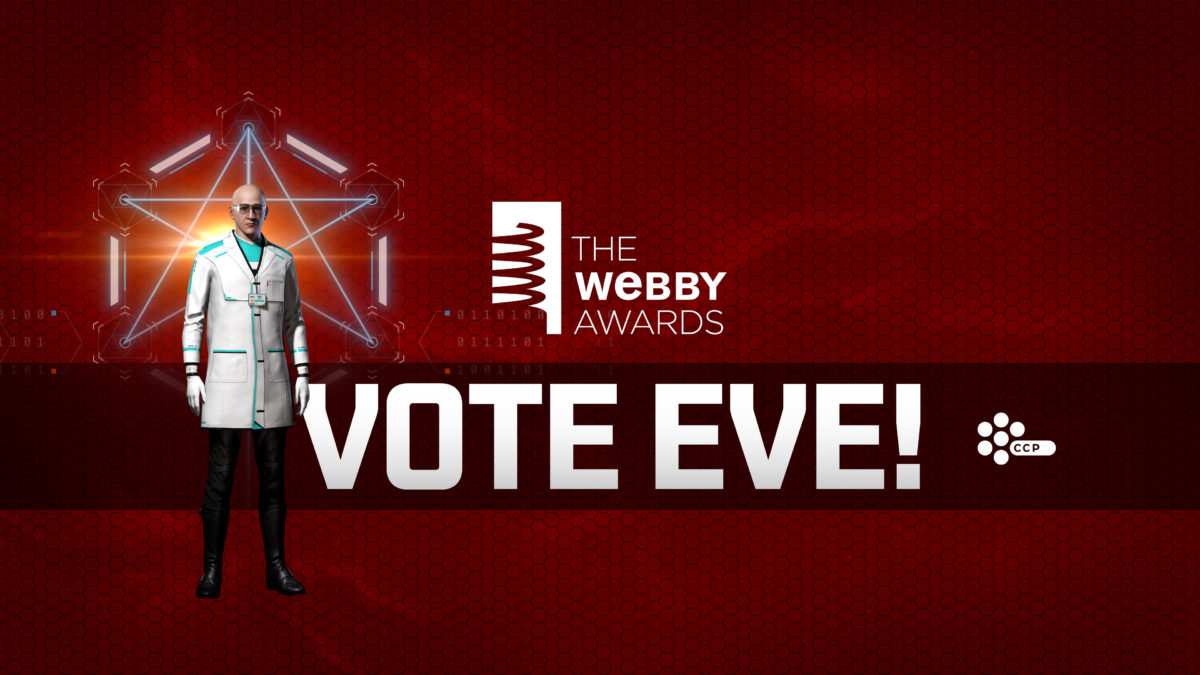 Fans Can Vote Online to Help EVE Online Win The Internet's Top Honor: vote.webbyawards.com
April 22, 2021 – Reykjavík, Iceland – CCP Games announced today that Project Discovery, the groundbreaking citizen science project and mini-game found within EVE Online, CCP's deep and uniquely player-driven spacefaring MMO, has been nominated for Best Public Service, Activism, and Social Impact Game in the 25th Annual Webby Awards.
Hailed as the "Internet's highest honor" by The New York Times, The Webby Awards, presented by the International Academy of Digital Arts and Sciences (IADAS), is the leading international awards organization honoring excellence on the Internet. IADAS, which nominates and selects The Webby Award Winners, is comprised of Internet industry experts including Mozilla Chairwoman Mitchell Baker; MOMA Senior Curator Paola Antonelli; Host of NPR's Code Switch Shereen Marisol Meraji; R/GA Global Chief Creative Officer Tiffany Rolfe; Co-Inventor of the Internet Vint Cerf; DJ and Founder, Club Quarantine D-Nice; Co-host Desus & Mero on Showtime Desus Nice; SVP of Content at Twitch Michael Aragon; Twitter Senior Director, Product Design Richard Ting; and Founders of VERZUZ Swizz Beatz and Timbaland.
Since June 2020, Project Discovery participants have contributed to a major real-life scientific program that aims to understand the immune system's response to the novel coronavirus (COVID-19). In partnership with teams at MMOS, McGill University, BC Cancer, and front-line COVID-19 clinicians such as Dr. Andrea Cossarizza (Professor of Immunology at the University of Modena and Reggio Emilia School of Medicine in Italy) – players have been marking cell populations on graphs which help scientists further understand how COVID-19 specifically affects blood cells. With over 115 million submissions made in the past year, players have helped to produce data that would not exist without the efforts of EVE's dedicated players around the world.
"Nominees like EVE Online are setting the standard for innovation and creativity on the Internet," said Claire Graves, Executive Director of The Webby Awards. "It is an incredible achievement to be selected among the best from the 13,500 entries we received this year."
"The third phase of Project Discovery has captured the attention of players, press and onlookers around the world" said Bergur Finnboggason, Creative Director for EVE Online. "Our Webby Awards nomination recognising the effort of players who participated in Project Discovery is utterly fantastic, we strove to do something meaningful with its latest iteration, and the response of players has gone above and beyond what we dreamed could happen"
As a nominee, CCP Games is also eligible to win a Webby People's Voice Award, which is voted online by fans across the globe. From now until May 6th, EVE Online fans can cast their votes at vote.webbyawards.com. Winners will be announced on Tuesday, May 18, 2021.
EVE Online can be downloaded for free by visiting www.eveonline.com. For all the latest information about the game, please visit EVE Updates. Assets can be found here.
###
Media Contact
Journalists seeking information about CCP or its products, interviews or further assets should contact media@ccpgames.com.
About EVE Online®
EVE Online (PC/Mac) is a compelling, community-driven sci-fi MMO game where players can build and pilot a wide variety of spaceships, traversing vast solar systems for free and choosing their own path from countless options, experiencing space exploration, immense PvP and PvE battles, mining, industry and a sophisticated player economy in an ever-expanding sandbox. EVE is a captivating game in which hundreds of thousands of players compete for riches, power, glory and adventure, forging their own destinies in a single thriving universe. For more information, visit www.eveonline.com.
About MMOS
Massively Multiplayer Online Science (MMOS) is a Swiss start-up bringing innovation to citizen science and gaming by introducing citizen science micro-tasks in major videogames. Past projects include the award-winning previous editions of Project Discovery in EVE Online and Borderlands Science in Borderlands 3. These science mini-games engaged over 1.5 million players and contributed with hundreds of millions of player submissions to advance science. For more information visit www.mmos.ch.
About McGill University
Founded in Montreal, Quebec, in 1821, McGill University is Canada's top-ranked medical doctoral university. McGill is consistently ranked as one of the top universities, both nationally and internationally. It is a world-renowned institution of higher learning with research activities spanning two campuses, 11 faculties, 13 professional schools, 300 programs of study and over 40,000 students, including more than 10,200 graduate students. McGill attracts students from over 150 countries around the world, its 12,800 international students making up 31% of the student body. Over half of McGill students claim a first language other than English, including approximately 19% of our students who say French is their mother tongue.