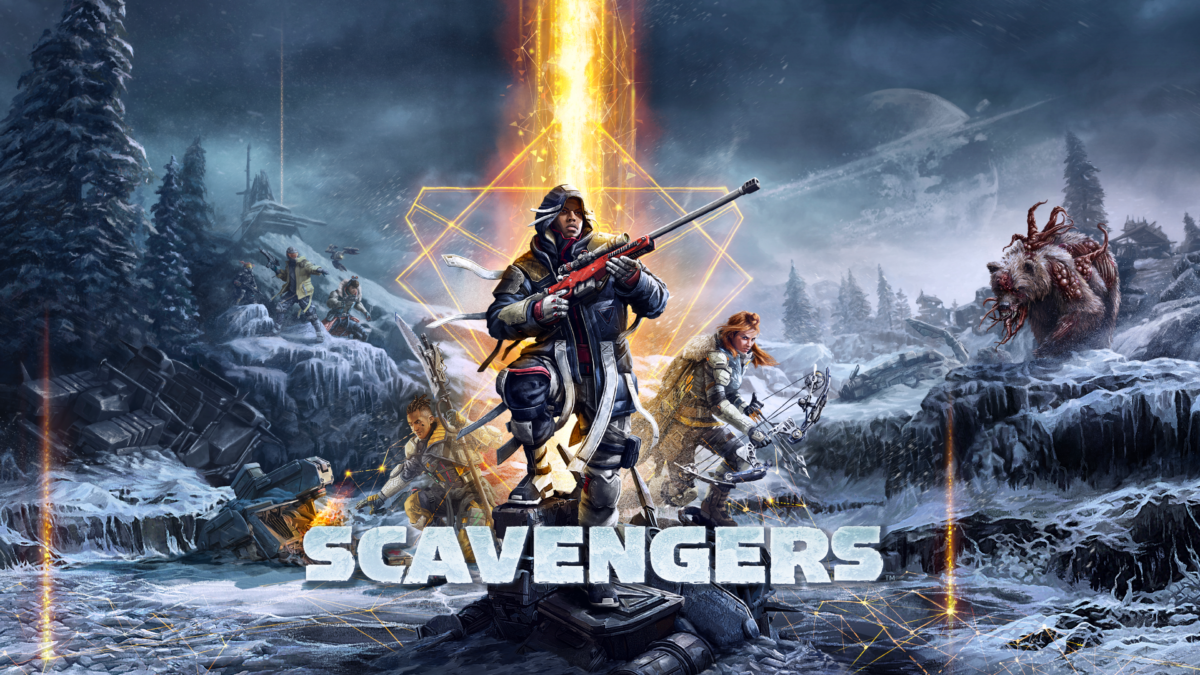 Midwinter Entertainment invites thousands of players to simultaneously participate in the unprecedented multiplayer event this weekend
Kirkland, USA – May 27, 2021 – ScavLab, the experimental sandbox testing platform built in Scavengers, Midwinter Entertainment's strategic survival shooter available in Early Access on Steam and the Epic Games Store, will be launching its first massive-scale player event on May 29th.
Following a closed community test that took place in mid-April where Midwinter hosted over 1,800 players, this first public ScavLab event will allow thousands of players to gather together and participate in a unique gameplay experience within a single, shared in-game communal hub. Players will take part in competitive sports minigames, large-scale combat, as well as attend a live, digital AMA with Midwinter Entertainment's CEO and co-founder Josh Holmes.
Players can join Scavengers' ScavLab event on May 29th at 7pm BST / 8pm CET / 11am PT by jumping directly into Scavengers and accessing the ScavLab mode from the lobby.
"This is an opportunity for players to get a first look at the unprecedented scale and gameplay possibilities of ScavLab," says Josh Holmes, CEO and Co-founder of Midwinter Entertainment. "We'll test features and gameplay ideas with up to 5,000 players in a shared environment – with the potential to host many more in future events. Our main goal is to make an experience that people want to join for the fun of it, and we'll be trying out a lot of things with every ScavLab event as we aim to achieve that. We hope the community is willing to join us on this wild ride."
The ScavLab event follows the first major patch for Scavengers and final server wipe. Now Explorers can play for keeps, and take advantage of Pioneer Rewards to thank long-standing community members for their development contributions. More details on the patch and Pioneer Rewards can be found here.
Join the first public Scavengers' ScavLab event on May 29th at 7pm BST / 8pm CET / 11am PT in-game. Anyone unable to participate can watch streams from the event at www.twitch.tv/directory/game/Scavengers.
About Midwinter Entertainment
Midwinter is a new Washington-based video game development studio established by veterans of the Halo, Battlefield, and Battlefront franchises, among many others. Josh Holmes, Fredrik Persson, Daryl Anselmo, and Peter Burzynski co-founded the studio after successful careers in AAA gaming. Holmes most recently served as Creative Director of Halo 4 and Studio Head of 343 Industries during the making of Halo 5: Guardians. Midwinter was acquired by Improbable in September 2019. For more information, please visit www.midwinter.net.
About Improbable
Improbable provides better ways to make multiplayer games, and helps multiplayer developers to meet any challenge. Designed specifically for game developers, Improbable's services include managed hosting & orchestration, networking, online services, development tools, as well as advice, support and full co-development.
Improbable also makes innovative multiplayer titles using its own technology, with studios in Canada, the US and Britain.
Founded in 2012 and headquartered in London, Improbable employs more than 600 staff in Europe, China and North America. www.improbable.io
About Improbable Multiplayer Services
Improbable Multiplayer Services (IMS) is the new name for Improbable's ever-expanding ecosystem of technologies and services dedicated to optimising the development, operation and evolution of online multiplayer games in the games-as-a-service (GaaS) space.
By combining proven technologies with access to a unique range of multiplayer game development skills and experience, IMS provides game makers with tailored and optimised solutions to the technical challenges associated with developing and operating live service games.
By using multiplayer services optimised by experts, game makers can develop and operate their games more effectively, and by using IMS to handle services developers and players rely on but shouldn't notice, game makers can focus more of their time on making content.