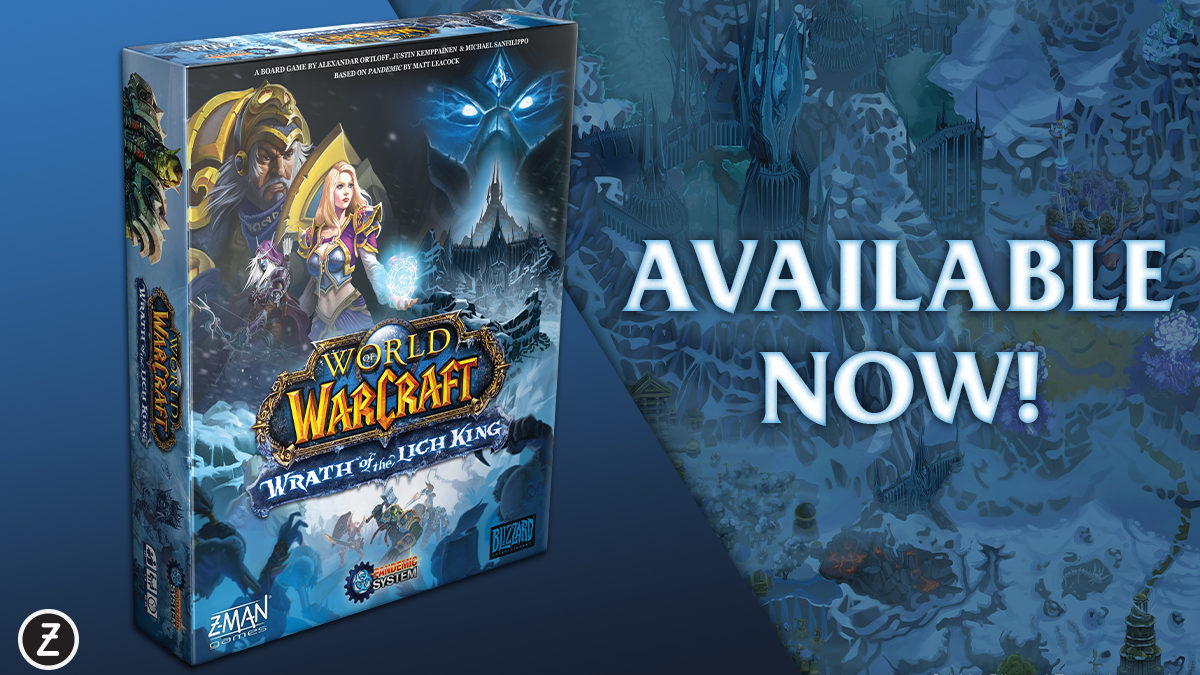 Fight the Scourge and become a hero of Azeroth in this tabletop adventure from Z-Man Games
ROSEVILLE, MN – October 4, 2021 – Today, Asmodee and Z-Man Games launched World of Warcraft®: Wrath of the Lich King® – A Pandemic System Board Game. The Wrath of the Lich King Board Game blends the fun of the co-operative Pandemic gameplay system with the thrill of epic World of Warcraft quests for a gripping tabletop experience. Become a hero of Azeroth as your team of classic World of Warcraft characters work together to defeat the Lich King and his undead Scourge army through combat, tense battles and fantastical quests. World of Warcraft: Wrath of the Lich King – A Pandemic System Board Game is available for purchase at Target for an MSRP of $59.99 USD.
The Wrath of the Lich King Board Game invites players to travel to Northrend within the world of Azeroth as one of seven legendary World of Warcraft heroes in a journey to vanquish the Scourge and their corrupted leader, the Lich King. To reach him, heroes must use their unique abilities to fight the undead and complete dangerous quests, weakening the Lich King's power before a climactic face-off with Arthas. Master Hero Cards and use Quest rewards wisely to stand a chance at winning – the Scourge are mighty, and they are many.
"At its core, Pandemic is about working together and conquering a big threat. It's a game of hope and tension, of teamwork and strategy. Taking those core elements of the game and mapping them to a new theme with larger-than-life characters, an iconic villain, and a fantastic setting with World of Warcraft was an exciting puzzle," Beth Erikson, Marketing Manager at Z-Man Games, said. "We wanted this game to be truly heroic and that meant going all out on new art, sculpted figures, new game challenges, and new character abilities that all fit together to feel like both a Pandemic and a World of Warcraft game."
World of Warcraft: Wrath of the Lich King – A Pandemic System Board Game includes:
The Pandemic system with familiar mechanics and cooperative gameplay, now tweaked to embrace the World of Warcraft universe. Familiar heroes from World of Warcraft have unique abilities that can topple hordes of undead scourge – so long as they're used wisely.
An extra-large game board featuring iconic Northrend locations and structures including forts, temples, battlegrounds, and more. With each setting pulled straight from the game, it's like a guided tour through the most fantastical (and fierce) this frozen tundra has to offer.
Legendary World of Warcraft characters with detailed and sculpted plastic figures, including Thrall, Warchief of the Horde; Varian Wrynn, King of Stormwind; and Sylvanas Windrunner, Banshee Queen of the Forsaken. Also featured are classic heroes like fabled paladin, Highlord Tirion Fordring; founding member of the dwarven Explorers' League Muradin Bronzebeard; Lady Jaina Proudmoore; and the matriarch of the Blood Knights, Lady Liadrin.
Quests that challenge players to adventure across the frozen wastes of Northrend to battle monstrous entities, destroy evil relics, and more. The heroes of Azeroth must defeat the major threats of Northrend and clear the way to the Lich King's fortress of Icecrown Citadel. These threats are represented by quests, and players must complete 3 to enter the endgame: the siege of Icecrown Citadel. Completed quests also grant Reward Cards, like the powerful Gunship Support – quickly moving a hero to any space to deal with a threat – and the life-saving Borrowed Time, which grants a player three extra actions in a turn.
Hero Cards that give players an edge against their enemies in the form of equipment for more attack power during combat, special mounts that allow players to move more spaces on their turn, healing potions to restore hit points, and much more.
World of Warcraft: Wrath of the Lich King – A Pandemic System Board Game is developed by Z-Man Games in collaboration with Blizzard Entertainment and published by Asmodee.
To learn more about World of Warcraft: Wrath of the Lich King – A Pandemic System Board Game, Pandemic, and Z-Man Games, go to www.zmangames.com.
You can find assets in the press kit here.
###
About Z-Man Games
Z-Man Games creates innovative board and card games that become modern essentials. Since 1999, the studio has published over 100 critically acclaimed titles from casual to complex, cooperative to competitive, small bag to big box—and everything in between. With an eclectic catalog featuring bestsellers like Pandemic, Love Letter, Citadels, and Carcassonne, Z-Man offers the best of both classic and cutting-edge games to suit any gamer's play style.
Z-Man Games is a part of the Asmodee Group. For more information, visit www.zmangames.com or find the studio on Facebook and Twitter (@ZManGames_).
About Asmodee USA
Asmodee USA Distribution is a sales, marketing, and distribution arm of the global Asmodee Group, a leading international company dedicated to bringing great games and amazing stories to all corners of the world. Asmodee USA Distribution represents the strongest portfolio of board games in the industry, including such favorite titles as Catan, Ticket to Ride, Spot It!, Pandemic, Just One, Dixit, X-Wing™, Dead of Winter, and many more.
About Blizzard Entertainment
Best known for blockbuster hits including World of Warcraft, Hearthstone®, Overwatch®, the Warcraft, StarCraft®, and Diablo® franchises, and the multifranchise Heroes of the Storm®, Blizzard Entertainment, Inc. (http://www.blizzard.com/), a division of Activision Blizzard (NASDAQ: ATVI), is a premier developer and publisher of entertainment software renowned for creating some of the industry's most critically acclaimed games. Blizzard Entertainment's track record includes twenty-two #1 games and numerous Game of the Year awards. The company's online gaming service, Battle.net®, is one of the largest in the world, with millions of active players.
Media Contacts
TriplePoint on behalf of Asmodee USA