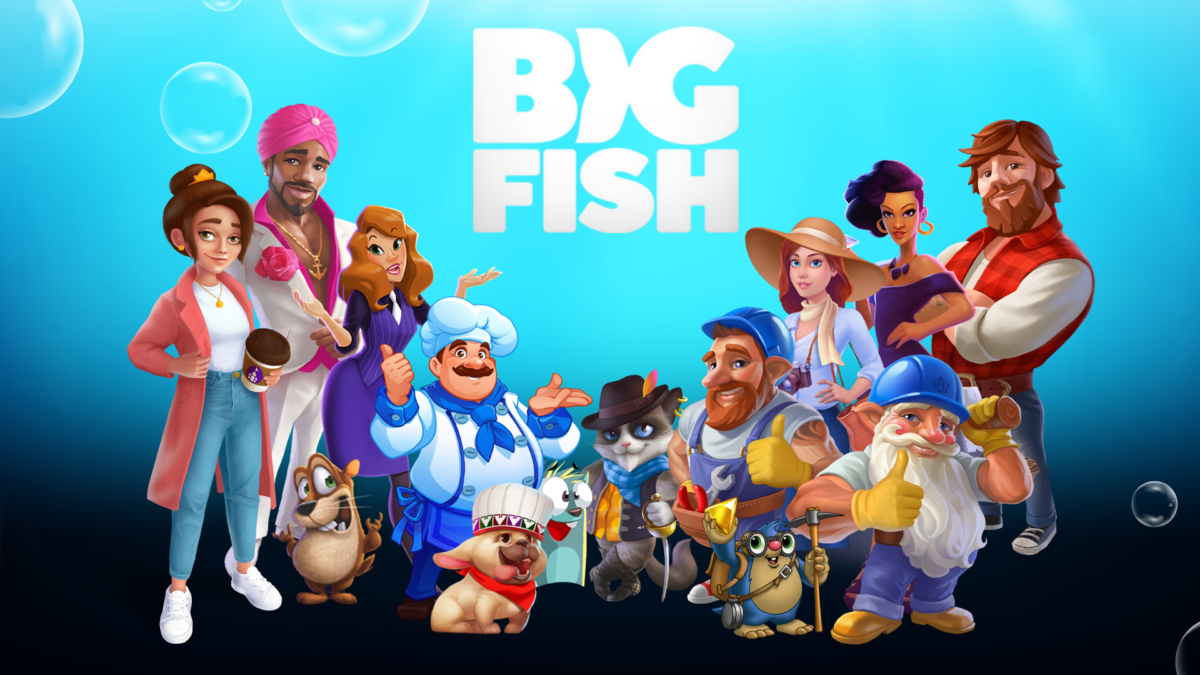 Leading casual & social casino games company behind hit game EverMerge announces new hiring and promotions as part of executive realignment.
SEATTLE – October 11, 2021 – Leading casual and social casino games company, Big Fish Games, today announced the hiring of Trung Luu as VP of Commercial Finance and CFO of Big Fish along with the promotion of Nicole Opas, to SVP Head of Studios and Todd Heringer, to SVP Head of Operations. These changes in leadership build upon the positive momentum Big Fish has seen with its category-leading social casino games and wildly popular game, EverMerge, and set the company up for success as it prepares to launch more franchise-worthy hit games.
"Big Fish has seen immense growth over the last 18 months with a sharpened strategic focus on product innovation and enhancing operating capabilities," said Jason Willig, President of Big Fish Games. "These promotions and additions are part of an executive realignment that enhances our leadership team and strengthens the company's position to grow and scale globally."
As VP of Commercial Finance and CFO of Big Fish, Trung is responsible for the company's global financial operations. Trung has spent over eight years in the mobile gaming industry and most recently was the Head of Studio Finance at Zynga. He has more than 20 years of finance experience spanning multiple industries within the gaming, media, and technology sectors.  
"I am excited to join the talented and diverse leadership team at Big Fish," said Trung Luu, VP of Commercial Finance and CFO of Big Fish. "The game portfolio and the momentum the company has right now is impressive, and I look forward to working with this team to strengthen its financial growth."
Former Vice President and General Manager, Nicole Opas, now SVP Head of Studios, is responsible for the company's product strategy and game development. Prior to joining Big Fish, Nicole spent over eight years at Zynga—leading game studios and teams developing and operating free-to-play mobile games across an array of genres including: poker, builders, word games, and more across world-renowned franchise games. Prior to that, she led game development at Disney for their casual games and playable experiences for four years.
Former VP of Studio Operations, Todd Heringer, now the SVP Head of Operations, will lead strategic operations, operating model, and central technology functions for the company. Todd brings over 20 years of experience in online entertainment, having shipped and operated products across a variety of mobile platforms in regions including China, Japan, Korea, Western Europe, and North America.
For more information about Big Fish, Trung, Nicole, and Todd please visit our About Us page.
###
About Big Fish Games
Celebrating 20 years delighting players worldwide, Big Fish Games is a mobile games category leader in Casual & Social Casino.
Big Fish operates an extensive portfolio of popular games across genres, including EverMerge, Cooking Craze, Gummy Drop, Big Fish Casino, Jackpot Magic Slots, and Fairway Solitaire.
Media Contacts
TriplePoint for Big Fish Games