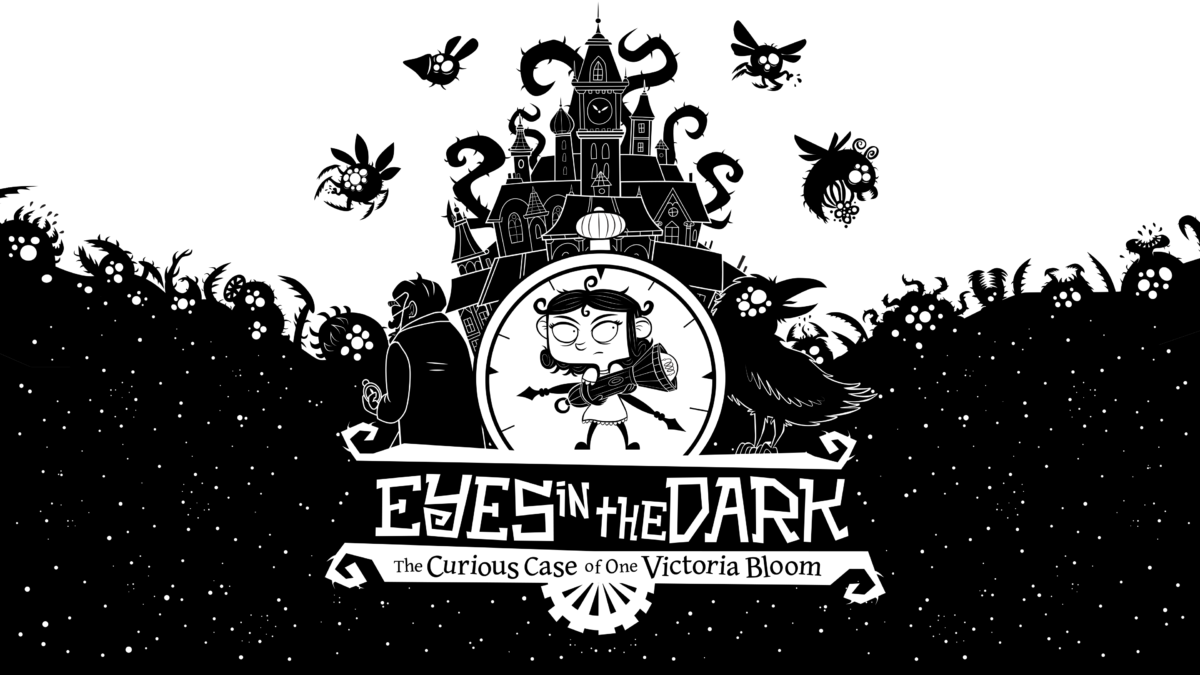 Fans who pre-purchase the title will receive the game's original soundtrack for free at launch
FRISCO, Texas – April 21, 2022 – Eyes in the Dark: The Curious Case of One Victoria Bloom will be launching on Steam and the Epic Games Store on July 14, 2022 (MSRP: $14.99). In addition, Under the Stairs and Gearbox Publishing announced that starting today anyone who pre-purchases the title will receive a free copy of the game's original soundtrack at launch (a $4.99 value).
In Eyes in the Dark, players control Victoria Bloom, a young girl searching for her grandfather who is lost somewhere in Bloom Manor, the family home that darkness has overrun. Find extra flashlight batteries to light up the dark, collect powerful new items to upgrade your arsenal, and attempt to defeat mysterious Guardians as you make your way through this monster-filled title that changes with every playthrough.
Key features of the title include:
Illuminate and Take Aim: Victoria starts with only a flashlight and slingshot to light her way and keep her safe, but you'll soon uncover powerful gadgets to help find her grandad. Operate your flashlight and slingshot utilizing standard twin-stick shooter actions to ward off creepy crawlies and traverse Bloom Manor's shadowy halls.
An Ever-Changing Mansion: Don't expect a house tour when you arrive, because the arrangement and contents of Bloom Manor change with every playthrough. When entering new areas, players can choose between multiple different ways to increase their power and difficulty of the run, tailoring each playthrough with every decision.
A Powerful and Surprising Arsenal: As you make your way through Bloom Manor, grab and use all of the items and upgrades to mix up the combat mechanics. Keep an eye out for the light-spreading Shotgun Bulb or Matches that set your enemies ablaze – items like these have unique effects that you can utilize by trying different combinations and setups.
Face the Darkness: As you progress through the game, you'll find the Bloom family's past casts a guiding light for Victoria's future. Complete quests, and fight off monsters, and unlock secrets about the eccentric Bloom family that could come in handy as you delve deeper into the manor.
"Eyes in the Dark creates an atmosphere of loneliness and isolation, all while giving you the tools to ultimately come out of the experience as a stronger person," said Filip Neduk, game designer at Under the Stairs. "Victoria's trial – going through the mansion alone and facing her fears – mirrors the player's need to learn and master the mechanics of the game to progress; you both go through this adventure together."
"It's an incredible feeling when you get to bring your hard work into the light after such a long time, both for us developers and for the characters we create, like Victoria Bloom," continued Vladimir Bogdanić, director at Under the Stairs. "One of the beautiful things that the team focused on was making sure that no two playthroughs of the game would be the same, regardless of how you guide Victoria. I'm ecstatic for fans to switch on their own flashlights and experience Eyes in the Dark on July 14th."
Stay in the loop with all upcoming announcements and reveals at https://www.eyesinthedarkgame.com/, as well as on our official Facebook and Twitter pages.
Watch Eyes in the Dark: The Curious Case of One Victoria Bloom's reveal trailer here.
For assets from Eyes in the Dark: The Curious Case of One Victoria Bloom, check out the press kit. 
# # #
About Under the Stairs
Founded in 2017, Under the Stairs is a small indie game development studio based in Zagreb, Croatia. Led by a tight-knit group who grew up playing all sorts of games across all sorts of genres and mediums, Under the Stairs is a place where imaginations and hobbies run wild.
About Gearbox Publishing
Founded in 2016, Gearbox Publishing was established with the goal of helping developers around the world bring their products to market while retaining their unique creative visions. The mission began with the critically-acclaimed Homeworld Remastered Collection for PC, and has since been followed by many partnerships that include Hello Neighbor, Astroneer, We Happy Few, Star Trek Online, Neverwinter, Remnant: From the Ashes, the Torchlight series, Have a Nice Death, Risk of Rain 2, Tribes of Midgard, and PlayStation®5 launch title, Godfall. Gearbox Publishing remains committed to its mission to entertain the world and become the most developer-friendly publisher in the industry. The Gearbox Entertainment Company is a proud member of the Embracer Group AB family of companies, which is publicly traded at Nasdaq First North (EMBRAC B). For more information, visit www.gearboxpublishing.com.
MEDIA CONTACTS:
Martin McBride
Gearbox Entertainment Company
martin.mcbride@gearbox.com
TriplePoint
gearbox@triplepointpr.com
+1-415-955-8500