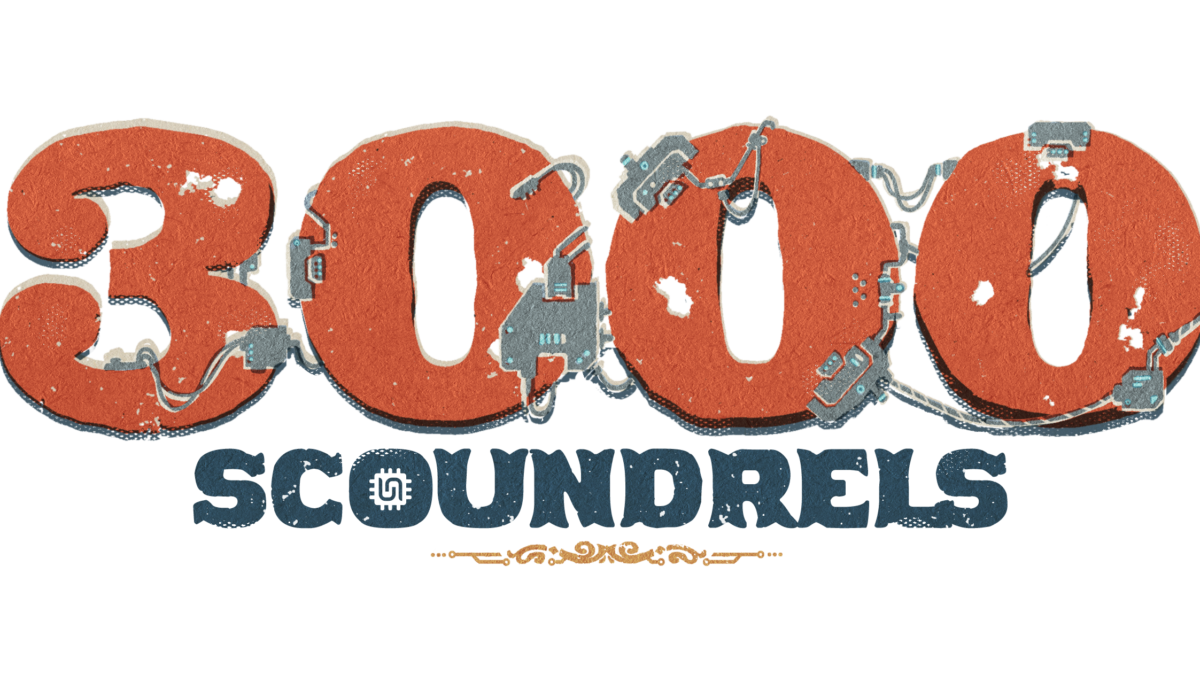 A fistful of scoundrels, thousands of possibilities, launching Fall 2022
ROSEVILLE, Minn. – July 22, 2022 – Unexpected Games is thrilled to announce their third title, 3000 Scoundrels, by designer and head of studio Corey Konieczka. Players create unique characters, build powerful combos, and outsmart their foes to become the most powerful gang leader in the West. 3000 Scoundrels will launch in select board game hobby retailers later this Fall.
Players who want a first look at 3000 Scoundrels can check out the trailer here.
"3000 Scoundrels was created from my love of card games, engine building, and bluffing. It started as a deconstruction of what a 'card' is in a game, and it tries to turn the genre on its head. I really think this game will resonate with hobby gamers all over the world," said Corey Konieczka, designer and head of studio, Unexpected Games.
In 3000 Scoundrels, 2-4 players enter an alternative history Wild West and assume the roles of rival leaders attempting to steal precious technology left behind by a mysterious man known only as the Traveler. At the end of the game, the player with the most tech will determine the fate of the American Frontier. Clear cards are used to create up to 3000 scoundrels, each with a unique name, artwork, and ability. Up to 50 scoundrels are used in each game, ensuring that every play-through is different!
Players will need to draft scoundrels that synergize with their strategy and use them to build an engine to ensure victory. Part of the strategy involves misdirecting opponents and choosing when to bluff. But, if players are caught cheating, they are penalized. 3000 Scoundrels includes 60 clear job cards, 50 trait cards, 4 leader sheets, 28 Poker cards, 8 strategy cards, 1 game board, and more.
3000 Scoundrels designer and head of studio Corey Konieczka started his career at Fantasy Flight Games in 2005 and is best-known for his work on such beloved games as Battlestar Galactica: The Board Game, Star Wars™: Rebellion, and Mansions of Madness: First
Edition. Konieczka departed his role as VP of Research & Design to found Unexpected Games in 2019.
Since then, Unexpected Games skyrocketed in popularity with their first release, The Initiative, and reached #1 on BGG's Hotness List and #1 on Amazon.com's Best selling New Board Games List within the first two weeks of release. Their second title, Voices In My Head, released in 2022 and has received praise for its experimental gameplay style.
Assets for 3000 Scoundrels can be found here. 
---
About Asmodee
Asmodee, part of Embracer Group since March 8th, 2022, is an entertainment leader specialized in boardgames, committed to bringing people together through great games and amazing stories. Thanks to its global and passionate workforce of over 2300 people, players around the world enjoy one of the largest boardgame IP catalog with Catan, Ticket to Ride, Dobble/Spot it!, Exploding Kittens and 365 more across a variety of digital and physical platforms. Headquartered in France (Guyancourt), Asmodee operates across Europe, North America, South America and Asia. For more information visit corporate.asmodee.com.
About Unexpected Games  Unexpected Games is a studio focused on innovation and idea incubation. Unexpected Studio creates games that are novel, fun, and accessible—surprising people with experiences they've never had before. They can be found at UnexpectedGames.com.