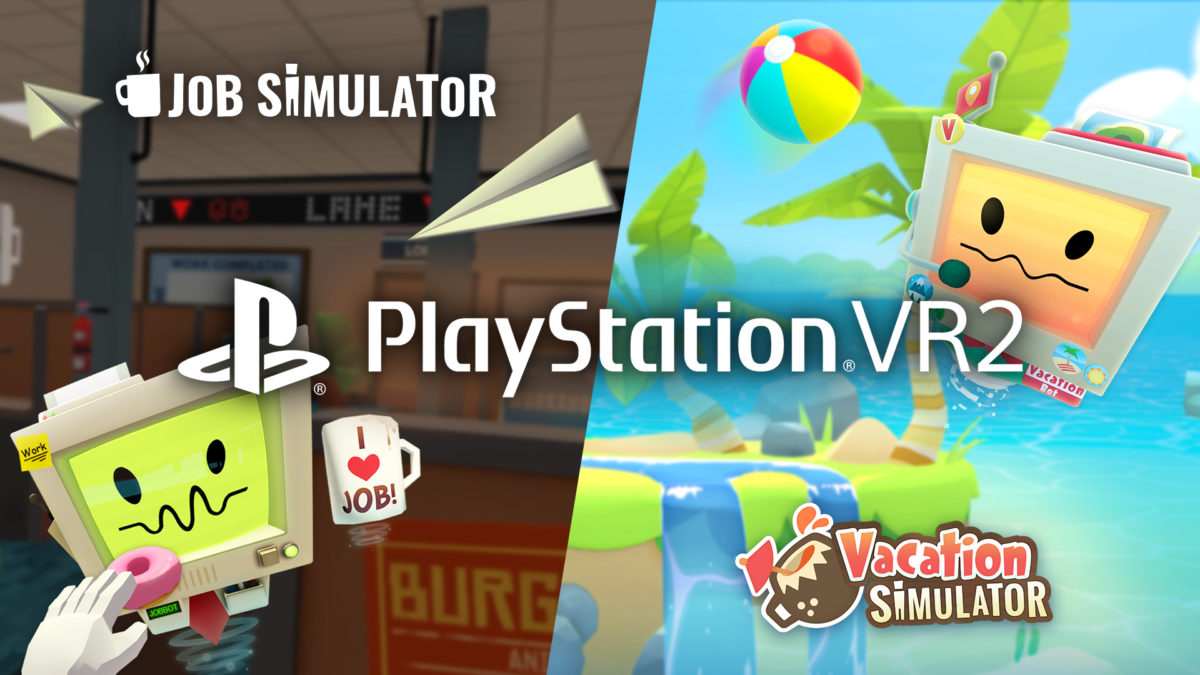 Players that already own either title on PlayStation® VR will receive a free PS VR2 copy
AUSTIN, TEXAS – January 14, 2023 – Today, Owlchemy Labs announced Job Simulator and Vacation Simulator will be available on PlayStation® VR2 on February 22 as launch day titles. Players who already own Job Simulator and Vacation Simulator on PlayStation VR will receive a PlayStation 5® version of the game they can download to their PS VR2 libraries at no additional cost. Job Simulator and Vacation Simulator can be purchased on the PlayStation Store for $19.99 and $29.99 respectively.
Job Simulator and Vacation Simulator feature enhancements built to take advantage of PS VR2's hardware, including:
Fully immersive visuals for Job Simulator and Vacation Simulator rendered in 4K at 90fps.
Improved controller and HMD haptics allow players a greater ability to feel that they're really in the garage or at the beach.
Shorter load times allow players to hit the ground running without lag.
Hear the ocean waves lap at your feet and the sizzle of a pan on the stove with Sony's advanced audio spatializer.
Job Simulator is set in a world where robots have replaced all human jobs. Humans that want a throwback to the old days of working can sign up for a series of job simulations—with a few humorous interpretations of how humans used to work. Job Simulator on PS VR2 includes the "Infinite Overtime" free content update, allowing players to work a never-ending night shift with endless tasks for each job. Since its launch in 2016, Job Simulator has become a breakout Platinum hit, earning high critical praise and selling more than 2 million copies.
Vacation Simulator takes players to "Vacation Island" where the robots discover the true meaning of "time off." The island is complete with everything a simulated dream vacation needs, including activity-rich destinations and a colorful cast of bots. Vacation Simulator on PS VR2 includes the "Back to Job" free content update, putting players behind Vacation Island's Poolside Cabana to serve vacationing Bots. Vacation Simulator has also received an accessibility update since launch that includes features like one handed mode, improved visual communication, and solutions for players with limited mobility.
For more information about Owlchemy Labs, visit their official website here. Assets can be found here.
---
About Owlchemy Labs
Founded in 2010 and acquired by Google in 2017, Owlchemy Labs is an XR studio with a passion for polished, playful, and innovative VR games and experiences. Owlchemy's titles include the award-winning, platinum-selling VR launch title "Job Simulator", the Emmy-nominated "Rick and Morty: Virtual Rick-ality", the top ten VR title "Vacation Simulator" and their newest VR title "Cosmonious High". With the mission of making VR for everyone, Owlchemy focuses on creating absurdly funny games and experiences in their signature style with ground-breaking accessibility that welcomes all players. Owlchemy continues to share its pioneering experiments and VR best practices through blog posts, white papers, and talks around the globe.
More information about Owlchemy Labs can be found at https://owlchemylabs.com. Assets can be found here.
Media Contact
TriplePoint on Behalf of Owlchemy Labs