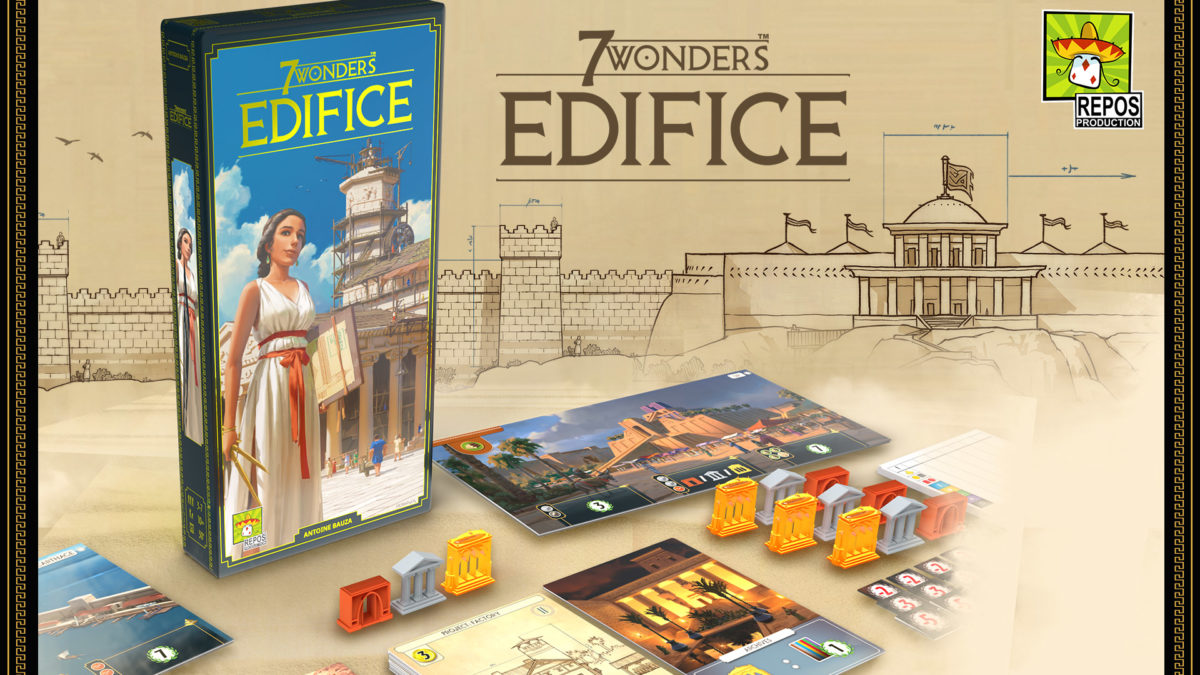 Ally with your opponents for a chance at wealth, power, and glory in this expansion to the world's most-awarded board game
BRUSSELS, BELGIUM – February 24, 2023 – Today, Asmodee and Repos Production launched 7 Wonders Edifice, the latest expansion to the award-winning 7 Wonders board game. 7 Wonders Edifice introduces communal building projects called Edifices that players can construct together to earn resources, money, or military power. The easy-to-learn expansion is compatible with all versions of 7 Wonders and does not extend the game time, making it the perfect gameplay addition for new and skilled players. 7 Wonders Edifice is available for purchase from the Asmodee store and select retailers for an MSRP of $29.99 USD.
7 Wonders is the world's most-awarded board game with more than 33 awards, including the prestigious Kennerspiel des Jahres, given in 2011. Since the franchise's debut in 2010, it has sold over 1.5 million copies and has been translated into 30 languages. 7 Wonders also expanded to mobile with the 7 Wonders app in 2017.
The newest of four expansions, 7 Wonders Edifice gives players a simple choice: join opponents in building a prestigious Edifice building, or ignore them and focus resources on personal glory. If players complete an Edifice, they earn rewards, while those who chose to work alone will miss out on end-of-age benefits. Each Edifice forces players to weigh the benefits and consequences of working with others, adding a fun risk-reward mechanic to the hit 7 Wonders gameplay.
7 Wonders: Edifice Key Features:
7 Wonders' Most Accessible Expansion: 7 Wonders Edifice is the most straightforward expansion for 7 Wonders, introducing a new form of player interaction without adding complexity or playtime.
Build Together or Alone: Work together to build Edifices and earn rewards such as military tokens or bonus victory point conditions if they're completed. Players can ignore them and focus on their city, but they'll have to face the consequences, like losing resources, money, or military power, if others finish an Edifice.
Expand Your Civilization: Add even more replay value to 7 Wonders with two new Wonders and 15 Edifice cards.
A Wonder for All Players: Easily set up 7 Wonders Edifice's compatible pieces with any version or expansion of 7 Wonders. (The Wonders, in line with the 2020 edition, are bigger than the first edition's Wonders, but this does not affect gameplay.)
7 Wonders Edifice is developed by Repos Production and published by Asmodee.
Assets for 7 Wonders Edifice are available in the press kit here.
---
About Repos Production
Repos Production is one of the major actors in the global board game scene, having published multiple award-winning games such as Time's Up!, 7 Wonders, Just One, Concept, and 7 Wonders Architects. Since its founding in 2004, the Belgian studio has published more than 60 titles and received over 60 awards. The team is motivated by their passion for creating unforgettable experiences through their games.
About Asmodee
Asmodee Group, part of Embracer Group, is a leading international games publisher and distributor committed to telling amazing stories through great games with over 43 million games sold yearly in more than 50 countries. Through our portfolio of iconic game titles, including Catan, Ticket to Ride, Pandemic, Dead of Winter, Splendor, 7 Wonders, Just One, Dobble/Spot it!, KeyForge and Star Wars: X-Wing, we create a dynamic transmedia experience for players across a variety of digital and physical platforms. Asmodee also creates inspiring and innovative products in partnership with leading entertainment and technology companies. With a global workforce of over 2000 people, Asmodee operates in Europe, North America, South America and Asia. Asmodee is headquartered in Guyancourt, France. Learn more at corporate.asmodee.com.
Media Contacts
TriplePoint on behalf of Asmodee
Asmodee@triplepointpr.com