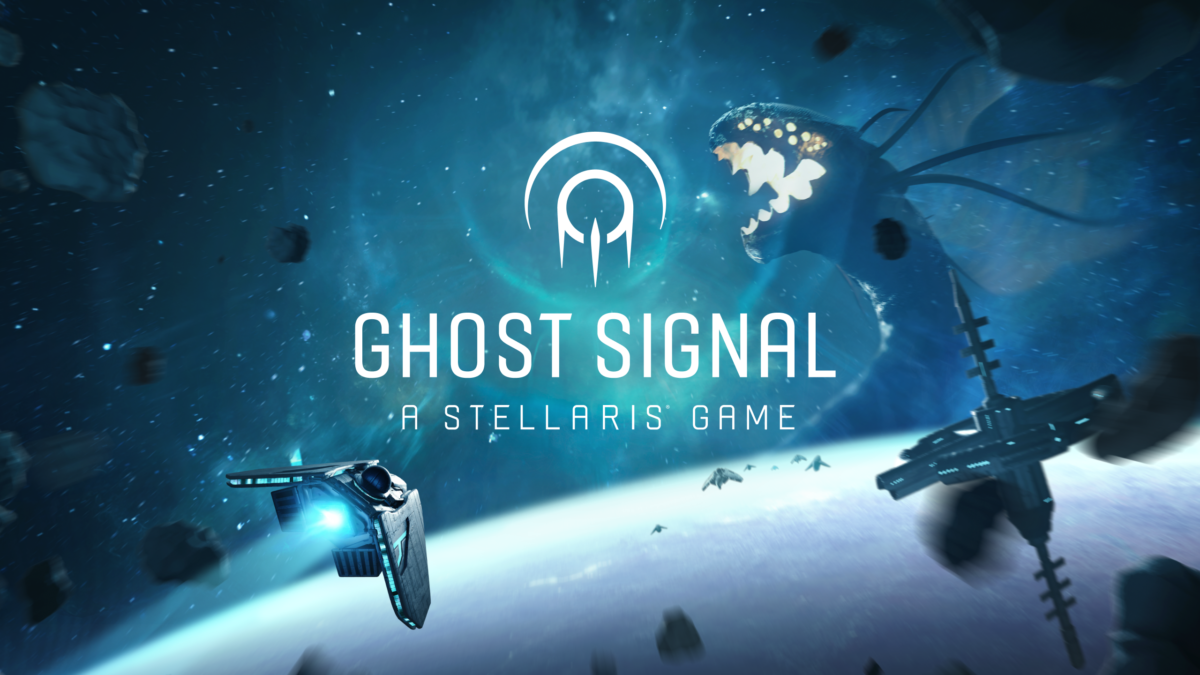 Venture into the vast unknown in Fast Travel Games' VR action roguelite
STOCKHOLM – March 23, 2023 – Fast Travel Games and co-developer Windswept Interactive today launched Ghost Signal: A Stellaris Game for Meta Quest 2. Set in Paradox Interactive's hit universe, Ghost Signal: A Stellaris Game is a VR action roguelite that tasks players with captaining the Aurora and setting out into uncharted space in search of the enigmatic Ghost Signal. Aspiring space captains can purchase the game now on the Meta Quest Store for $19.99.
Prepare for the journey ahead and watch the launch trailer here: https://youtu.be/JfHEeeuXHEE
In Ghost Signal: A Stellaris Game, outer space comes vividly to VR with breathtaking visuals and dynamic audio for an immersive intergalactic experience. With a thorough tutorial, suspenseful narrative, and unpredictable encounters, explorers will uncover something different in every playthrough. While Ghost Signal: A Stellaris Game is set in the Stellaris universe, familiarity with the hit grand strategy game is not required to enjoy its engaging story or fast-paced combat.
Ghost Signal: A Stellaris Game features:
INTERSTELLAR SPACE BATTLES: Use the whole artillery of the Aurora against enemy armadas. Loot or purchase power-ups like freeze rays, atomic missiles, or dragon companions.
A UNIVERSE FULL OF WONDERS: As captain of the Aurora, encounter strange aliens in their home worlds and enter lost temples in the pursuit of the mysterious signal that seems to defy even death.
UPGRADE & CUSTOMIZE: Scan exotic creatures for the logbook and conduct research in multiple tech trees. Asynchronous multiplayer allows captains to scavenge other players' deserted ships for valuables.
A NEVER-ENDING JOURNEY: Alongside story mode where randomized maps make every session unique, Ghost Signal: A Stellaris Game includes daily challenges with global and local leaderboards to climb.
Ghost Signal: A Stellaris Game can also be played with Hand Tracking 2.0.
For the latest information and news, follow Ghost Signal: A Stellaris Game at @GhostSignalVR on all major platforms and the official website.
# # #
About Fast Travel Games
Fast Travel Games is a VR exclusive games developer and publisher based in Stockholm, founded by industry-leading veterans and behind critically acclaimed VR titles such as Apex Construct, The Curious Tale of the Stolen Pets, and Wraith: The Oblivion – Afterlife. Our mission is to create high-quality VR games with believable interactions, set in immersive worlds and populated with memorable characters.
About Windswept Interactive
Windswept Interactive is a platform-agnostic game studio, founded in 2020 by gaming industry veterans as one of the first studios in the Aurora Punks game collective. Having a small but carefully curated team in a big collective of skilled developers enables Windswept to reach far beyond its size on any platform, including VR. With its head office in the north of Sweden, Windswept interactive delivers high-quality craftsmanship through a sustainable and inspiring work environment. This is not just a promise but an essential part of the Windswept culture!
TriplePoint for Fast Travel Games
fasttravelgames@triplepointpr.com
(US+1) 415-955-8500