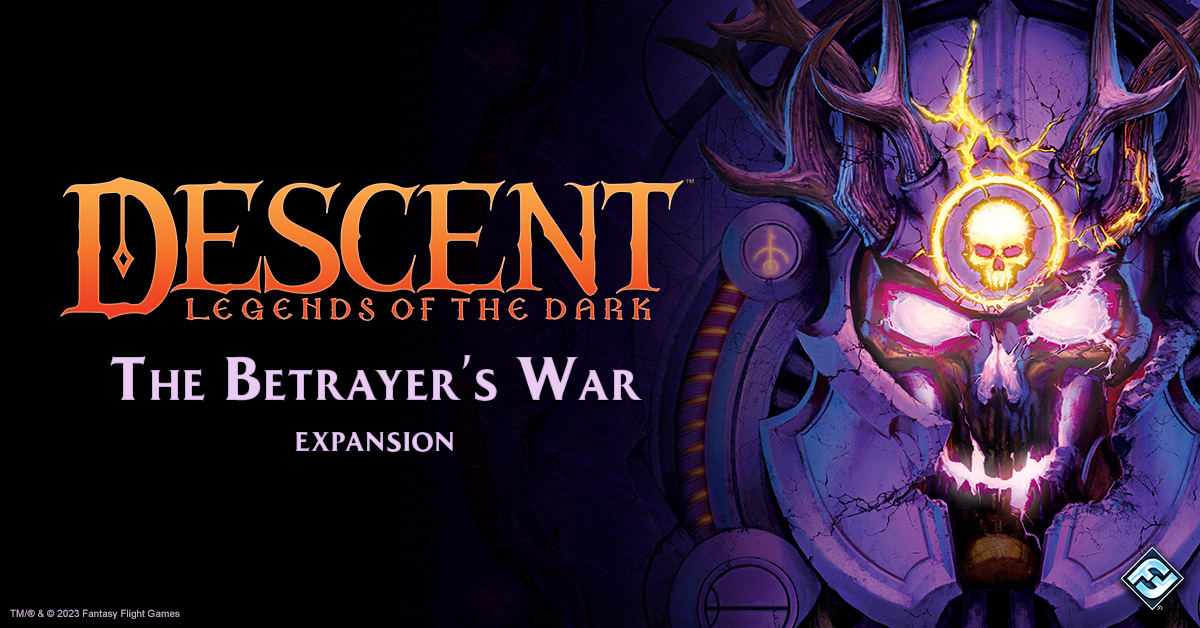 Gather your party for an exciting new adventure in Terrinoth with the sequel to Descent: Legends of the Dark
Roseville, MN — March 23, 2023 — Fantasy Flight Games, a leading publisher of tabletop board and card games, has announced the upcoming release of Act II, The Betrayer's War, the much-anticipated expansion to the popular and critically acclaimed board game, Descent: Legends of the Dark. The expansion will be available in select retailers and the Asmodee store this fall at an MSRP of $159.99 USD.
Descent Act II is a sprawling and deeply cooperative dungeon crawler driven by player choice – all powered by an app that allows for games to run without a Game Master. The game's immersive storyline is packed with twists and turns sure to thrill players of all skill levels. Campaigns can be played solo or with up to 4 players, requiring cooperation and skillful teamwork to overcome challenges.
The Betrayer's War builds on the exhilarating dungeon-crawling adventure of its predecessor by introducing new villains, quests, and mechanics. The game sees players returning to Terrinoth, where they find themselves in an unlikely alliance with their greatest enemy, Waiqar the Betrayer. They have to work together to battle against armies of dragons and the sinister machinations of the Uthuk Y'llan. All six heroes from the original game return to defend their legacy, each equipped with a new hero card and a variety of abilities to aid them in their battle against the impending darkness.
"Descent has been a fan favorite for years, and this new installment is a natural evolution, introducing new mechanics and leveling up heroes for the next threat," said Philip D. Henry, Lead Designer of Descent: Legends of the Dark. "Descent Act II builds on the core mechanics of the original so players can easily transition from one to the other. So finish up those campaigns now, and be ready to face the Dragonlord Levirax!"
Descent: Legends of the Dark Act I is required to play Act II, The Betrayer's War. You can find assets for Descent Act II: The Betrayer's War here. For more information on the Descent: Legends of the Dark series, visit the official Fantasy Flight Games website.
---
About Fantasy Flight Games
Fantasy Flight Games (FFG) is a pioneering publisher of hobby board and card games, including trademarked Living Card Games®. Established in 1995, FFG has earned a reputation for its epic themes, immersive gameplay, and top-level components. Many of FFG's most popular titles are based on beloved licenses such as Star Wars™, Marvel, J.R.R. Tolkien's The Lord of the Rings, and George R.R. Martin's A Song of Ice and Fire. In addition, FFG has its own iconic universes such as Arkham Horror Files, Terrinoth Legends, and Twilight Imperium. Throughout the course of the studio's rich history, FFG has published games in over thirty languages and distributed to more than fifty territories. Fantasy Flight Games is a subsidiary of Paris-based Asmodee Group, a leading global publisher of tabletop games. For more information, visit FantasyFlightGames.com.
About Asmodee
Asmodee is an entertainment leader specialized in boardgames, committed to bringing people together through great games and amazing stories.
Thanks to its global and passionate workforce of over 2,500 people, players around the world enjoy one of the largest board game IP catalogs with CATAN, Ticket to Ride, Dobble/Spot it!, Exploding Kittens and 365 more across a variety of digital and physical platforms.
Headquartered in France (Guyancourt), Asmodee operates across Europe, North America, South America and Asia.
Asmodee is a part of the Embracer Group AB, which is publicly listed on Nasdaq Stockholm under the ticker EMBRAC B. (EMBRAC B).
For more information: https://corporate.asmodee.com/
Media Contacts
TriplePoint on behalf of Asmodee
Asmodee@triplepointpr.com