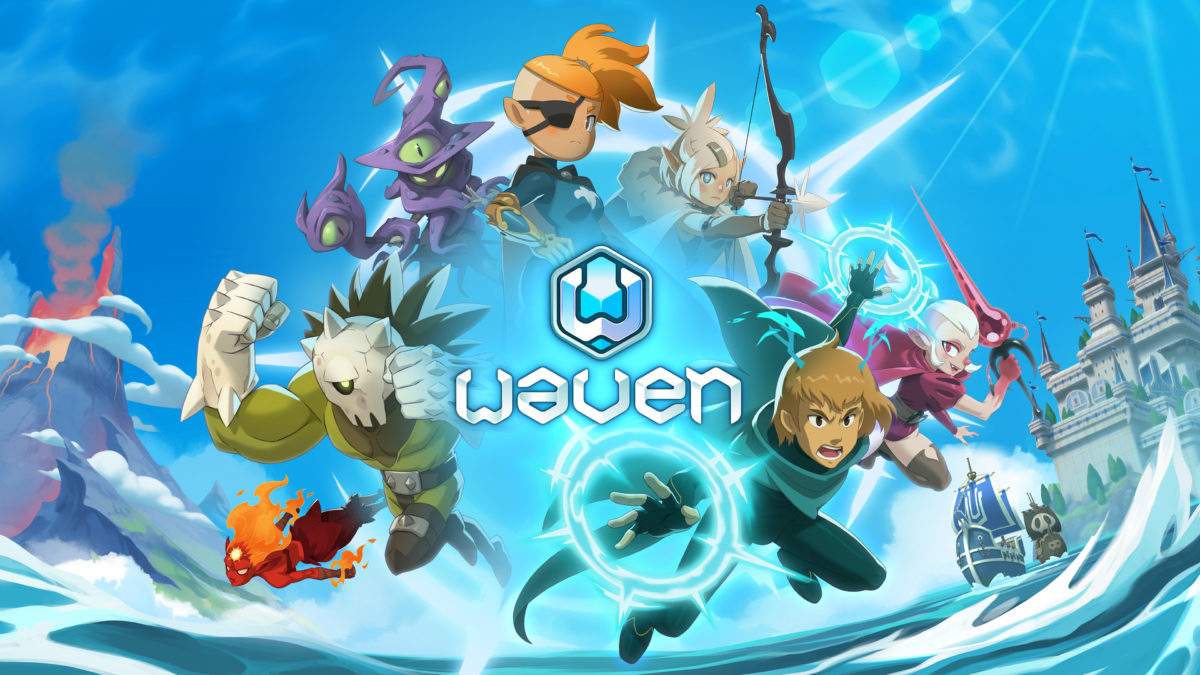 It's official: Ankama will release WAVEN in 2023. The game will be free to play and playable on Windows PCs, Macs, and tablets and smartphones running iOS or Android. This is the perfect moment to unveil the very first trailer for this great new adventure.
Roubaix, France – May 2, 2023 – Get ready to weigh anchor, sailors! In a flooded world where only a few islands have survived the rising waters, you play a seafaring adventurer searching for answers to this great upheaval. Long ago, gods and dragons ruled the world. Today, magic remains, but what of the mythical beings of yesteryear? Welcome to WAVEN, Ankama's ambitious new production that offers a new perspective on the tactical multiplayer RPG universe. After the hit DOFUS and WAKFU MMOs, today, Ankama is unveiling the first trailer for the free-to-play game coming out in 2023 on Windows PCs, Macs, tablets, and smartphones running iOS or Android.
Check out the WAVEN trailer here.
WAVEN: A new take on a tactical RPG
WAVEN takes you to the dawn of a new era. Choose your hero, equip your best spells and set sail for an incredible odyssey. Sail from island to island in a vast world full of colorful creatures, gain power, refine your strategy and uncover the secrets of a world adrift.
WAVEN is a new roleplaying game experience that is accessible, fun and immersive. It combines adventure and turn-based strategy, inspired by the best tactical RPGs, with deckbuilding mechanics and valuable items to collect.
Alone or with friends, face off against multitudes of burlesque monsters of increasing difficulty. Master the elements, cast powerful spells, summon mythical companions and battle your enemies in close combat or from a distance to defeat them and win tons of loot!
Gain experience to upgrade your hero! Defend your "Haven Island" from attacks by other players in a brand-new asynchronous mode or prove your valor by entering the doors of the "Kolossium" to challenge other players and become a legend yourself!
"This is a really ambitious project that we believe in immensely. We can't wait to present WAVEN to as many people as possible in its best version yet. Everyone at the studio put so much work into making this game a unique experience, and we're really proud of the result," said Anthony Roux, also known as ToT, creative director and CEO of Ankama.
Early Access this Summer, and Release in Late 2023
Players will get early access to WAVEN this summer to try out one last version of the game and give their final feedback before a worldwide free-to-play release in late 2023. The game will be co-published by Ankama and New Tales.
A Cross-Platform Adventure
One of the unique things about Ankama's upcoming game is its cross-platform aspect – players will be able to continue their adventures wherever they are, switching from one platform to another with the same account on Windows PCs, Macs, and smartphones and tablets running iOS or Android.
To make sure they don't miss out on anything, players can sign up for the newsletter and add the game to their Steam wishlists now.
Assets for WAVEN can be found here.
---
About the Ankama Group
Ankama is an independent French company that creates, publishes and distributes works of entertainment worldwide. Following the success of its online game DOFUS in 2004 (more than 100 million accounts created worldwide), Ankama branched out into several different areas and has now become a transmedia group to be reckoned with. From video games to board games, and from manga to anime, it controls the production chain for its creations from A to Z. As the creator of a vast universe called the "Krosmoz", known for its multiplayer online roleplaying games DOFUS and WAKFU and the animated series of the same name, it also produces animated feature films such as DOFUS Book I: Julith and Princess Dragon. Passionately creative, Ankama also designs and develops board games such as Krosmaster Arena, Monster Slaughter and Arkeis; mobile games such as Tactile Wars, King Tongue, Super Nano Blaster and DOFUS Touch; and graphic novels and manga such as Radiant, Shangri-La, Carbone & Silicium, Dans la tête de Sherlock Holmes, DOFUS and Mutafukaz to name just a few. Ankama's teams take a transmedia approach when creating the universes that they develop through multiple stories in multiple media, thereby offering their loyal communities of players, readers and spectators a full and immersive narrative experience across all popular platforms. At Ankama, every story is unique, but they are all interconnected. In 2020, Ankama broke the European crowdfunding record for an animated series on Kickstarter by raising more than 1.5 million euros to produce the fourth season of WAKFU. In 2023, the company will once again show its creative strength with the release of two animated series – La Dernière Aventure du Comte Lance Dur on ADN and season 4 of WAKFU – and its latest game in the Krosmoz universe, WAVEN.
About NEW TALES 
NEW TALES is an independent publisher and game developer focused on games' DNA & player communities. Shaped by its international background & live games expertise, the New Tales team join forces with their partner game studios, working as one team to unleash new gaming gems. For more information, visit www.newtales.com.
Media Contacts
TriplePoint on behalf of Ankama
Ankama@triplepointpr.com