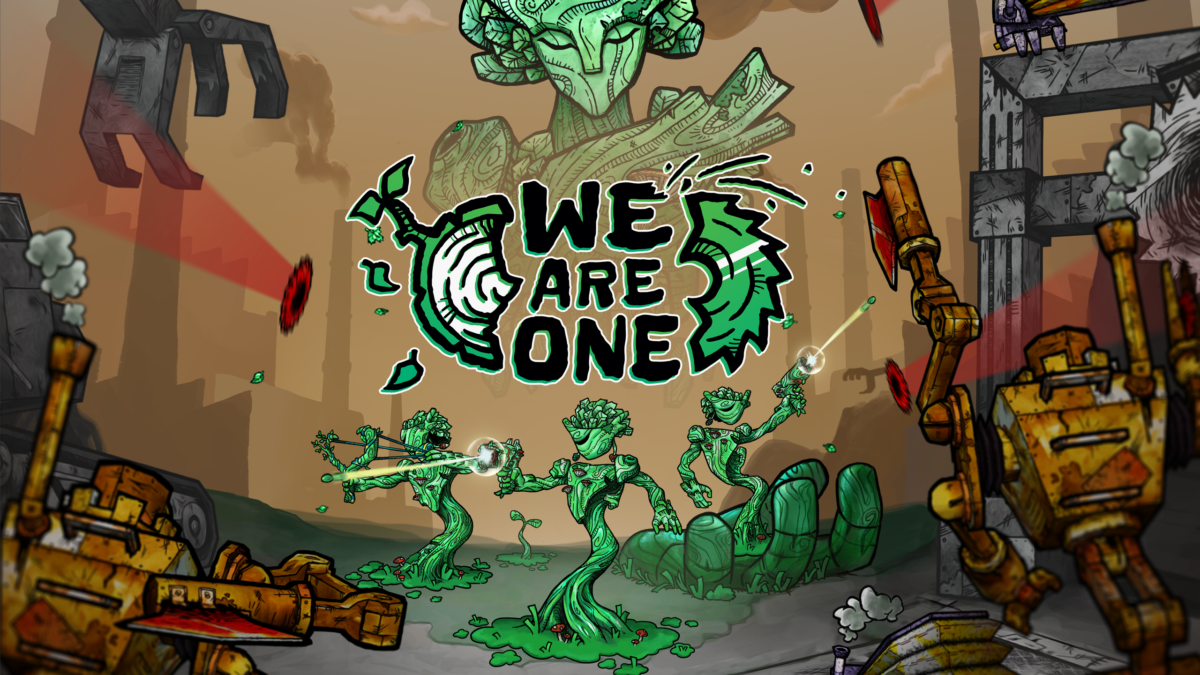 Wishlist Fast Travel Games and Flat Head Studio's mind-bending title now
STOCKHOLM – May 11, 2023 – Fast Travel Games and developer Flat Head Studio today announced that strategic VR puzzle shooter We Are One, the highest-rated game on App Lab, will officially launch on June 1, 2023, for Meta Quest 2 and SteamVR. In We Are One, players use time loops to create clones of themselves to stop ruthless machines from destroying the environment. Wishlist the title today on the Meta Quest Store and Steam for $19.99.
Check out the latest trailer celebrating the game's positive reception so far: https://youtu.be/Ud2hdHvOhNg
We Are One arms players with their better half – their clone! – to solve cleverly designed puzzles. Use time loops to tactfully place clones and blast through over 50 levels teeming with mechanical enemies hellbent on environmental destruction. Each action performed in a time loop is replicated by a clone in the next, challenging players to cooperate with themselves to defeat the machines.
"Watching and interacting with your past selves is a one-of-a-kind sensation that shines in VR," said Philipp Sigl, Co-founder & Programmer at Flat Head Studio. "The time loop mechanic is integral to building an army of one, but how each level's sequence of events unfolds depends on what actions each clone performs. You must think several steps ahead and walk in your future self's shoes to solve the game's puzzles."
Features include:
Me, Myself, and I: If you want something done right, do it yourself! Every action you perform in a time loop is precisely replicated by a clone of you in the next loop. You must cleverly plan ahead and cooperate with your clones across time loops in over 50 action-packed levels.
Fight The Machine: Be one with Mother Nature, and fight back against destructive robots hellbent on destroying the planet. Experience various levels with new twists and challenges for you and your clones to overcome, with online leaderboards to climb for the most competitive players!
Stylistic Artstyle: We Are One features a distinctive comic-like art style and a vibrant watercolor-inspired palette bringing the fearsome machines and idyllic natural elements to life in full VR.
Comfortable VR Experience: Easy to pick up but challenging to master, We Are One is designed to be enjoyed by VR beginners and seasoned players alike.There is no artificial locomotion, and the only movement present in the game is through occasional teleportation.
Download the media kit here.
For more information and updates, follow @WeAreOneVR on Twitter and Instagram, @WeAreOneGame on Facebook, or join the community on Discord.
---
About Fast Travel Games
Fast Travel Games is a VR exclusive games developer and publisher based in Stockholm, founded by industry-leading veterans and behind critically acclaimed VR titles such as Apex Construct, The Curious Tale of the Stolen Pets, and Wraith: The Oblivion – Afterlife. Our mission is to create high-quality VR games with believable interactions, set in immersive worlds and populated with memorable characters.
About Flat Head Studio
Flat Head Studio is a game development studio located in the heart of the Austrian Alps, comprising a team of four enthusiastic developers who came together through their shared passion. Our focus is on delivering immersive games that provide enjoyable interactions and transport players to extraordinary realms.
TriplePoint for Fast Travel Games
fasttravelgames@triplepointpr.com
(US+1) 415-955-8500