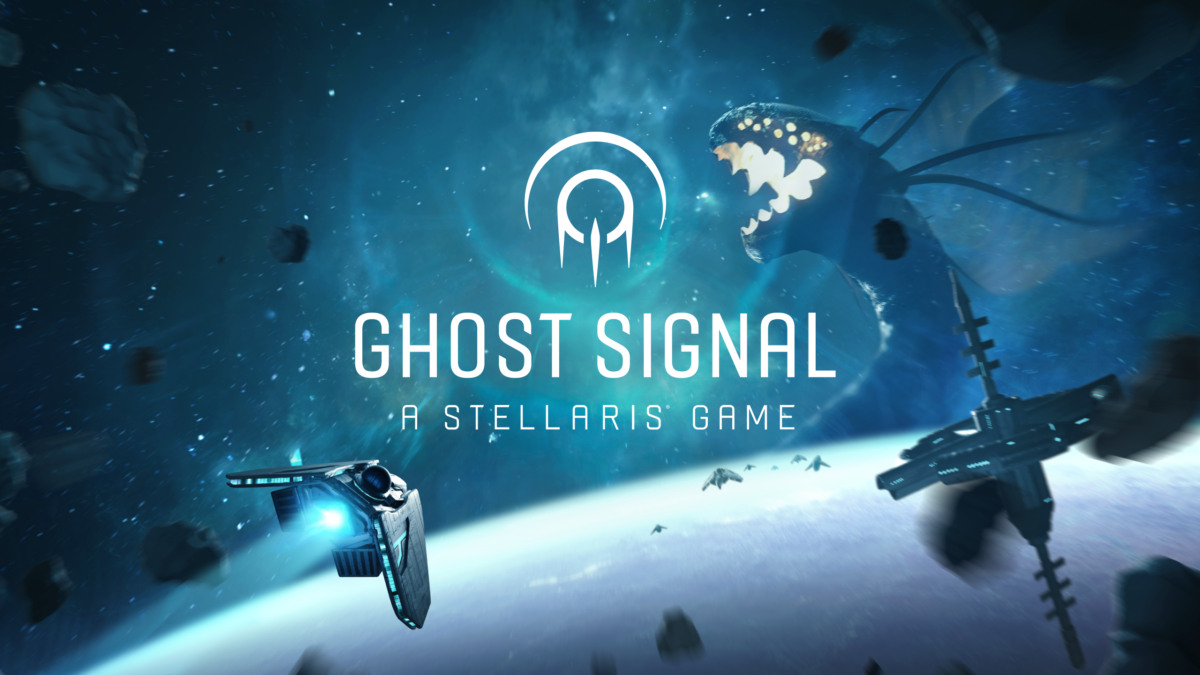 Content update adds two new ships, a relaxed mode, and an autosave feature, available now for Meta Quest 2
STOCKHOLM – June 1, 2023 – Today during the Meta Quest Gaming Showcase, Fast Travel Games and co-developer Windswept Interactive revealed the first expansion for Ghost Signal: A Stellaris Game, the virtual reality action roguelite set in Paradox Interactive's hit galactic universe. The free expansion is available now and adds the Pandora and Iris ships, a relaxed mode, and an autosave feature. Purchase Ghost Signal: A Stellaris Game now on the Meta Quest Store for $19.99.
Check out the free expansion's reveal trailer here: https://www.youtube.com/watch?v=3NTwKDsv50o
The first major content expansion adds the following features to the game:
PANDORA: Aggressive but nimble, the Pandora is powered by Meteorite Thrusters, giving it the unique ability to ram other ships to deal heavy damage. The Pandora is equipped with a Surge Laser, Parasite Blaster, and Swarm Missile, enabling it to deal double damage in close combat, recharge its shield after a successful hit, or attack multiple targets simultaneously.
IRIS: Built for strategy, the Iris can use special Blink Thrusters to teleport between waypoints, dropping explosives that detonate when an enemy comes within proximity. The Iris is equipped with a Sniper Blaster, Link Laser, and Odin Missile, letting players pick enemies off from afar, quickly manage crowd control, or deal massive damage in one hit.
RELAXED MODE: In this mode, ship damage is reduced, ammunition is increased, the currency threshold is raised, and shops will offer more items. All options can be individually adjusted with multiple levels, allowing players to tune the game's difficulty.
AUTOSAVE: Ghost Signal: A Stellaris Game now autosaves at the start of each sector. Players can pick up where they left off with the Continue Game option, or start a new journey by choosing the Abandon Game option. Autosave is automatically enabled for all players.
"Our goal with this update is to give players more gameplay options and flexibility, rather they prefer a fast-paced race to the finish or time to thoroughly explore everything," said Christopher Smith, Lead Game Designer at Fast Travel Games. "Outer space can be terrifying, but your experiences in Ghost Signal don't have to be. Test out the Pandora and Iris, and give the relaxed mode a go to see what works best for you."
In Ghost Signal: A Stellaris Game, players captain the starship Aurora and set out in search of the enigmatic Ghost Signal. Throughout their journey, players meet mysterious aliens, encounter planet-sized creatures, and engage in epic space battles. With a thorough tutorial, suspenseful narrative, and unpredictable encounters, explorers uncover something different in every playthrough.
Ghost Signal: A Stellaris Game can also be played with Hand Tracking 2.0.
For the latest information and news, follow Ghost Signal: A Stellaris Game at @GhostSignalVR on all major platforms and the official website.
---
About Fast Travel Games
Fast Travel Games is a VR exclusive games developer and publisher based in Stockholm, founded by industry-leading veterans and behind critically acclaimed VR titles such as Apex Construct, The Curious Tale of the Stolen Pets, and Wraith: The Oblivion – Afterlife. Our mission is to create high-quality VR games with believable interactions, set in immersive worlds and populated with memorable characters.

About Windswept Interactive
Windswept Interactive is a platform-agnostic game studio, founded in 2020 by gaming industry veterans as one of the first studios in the Aurora Punks game collective. Having a small but carefully curated team in a big collective of skilled developers enables Windswept to reach far beyond its size on any platform, including VR. With its head office in the north of Sweden, Windswept interactive delivers high-quality craftsmanship through a sustainable and inspiring work environment. This is not just a promise but an essential part of the Windswept culture!

TriplePoint for Fast Travel Games
fasttravelgames@triplepointpr.com
(US+1) 415-955-8500