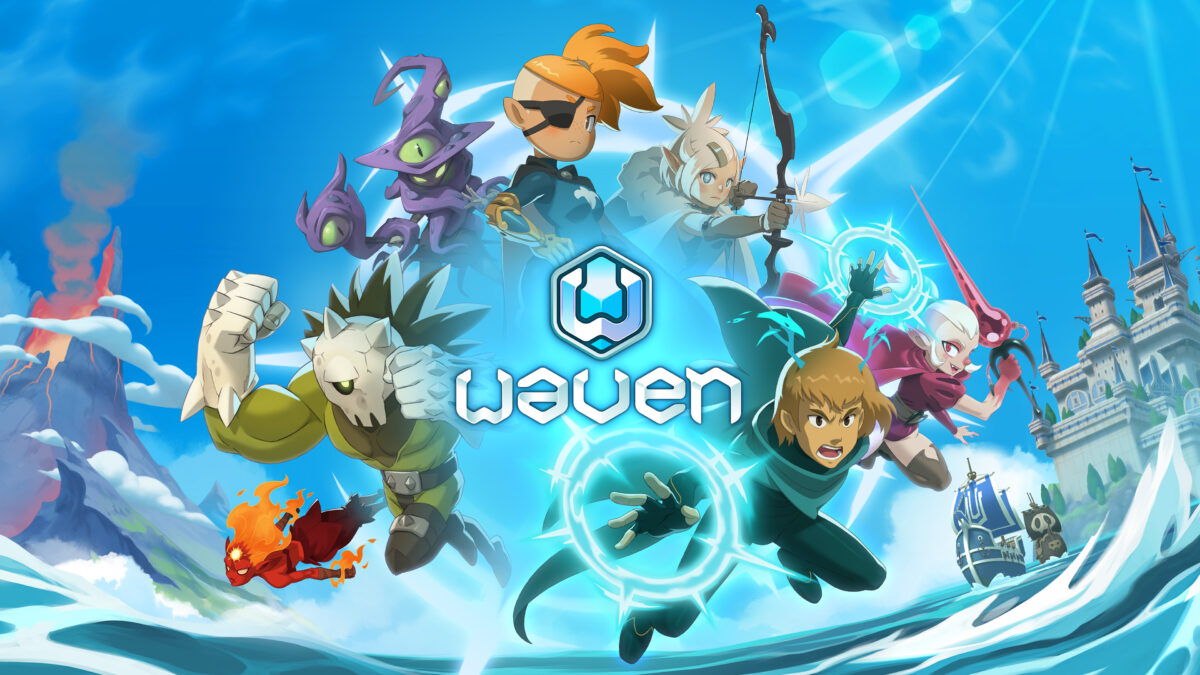 Catch the WAVEN wave on 16 August 2023 at 5 p.m. CEST.
A new game trailer gives players a peek at what's waiting for them during the early access period.
Seafaring adventurers can set sail with premium cosmetic items in Founder's Packs and the brand  new Gold and Platinum Passes. 
Paris and Roubaix, 16 August 2023 – Raise the anchor, hoist the main sail, and cast off because the  WAVEN early access starts today. 
The long-awaited new game from the Roubaix-based company is finally available on 16 August 2023 for free in early access on Windows PC and Mac. WAVEN is available on the Ankama Launcher and on Steam. The game will be available later this year on iOS and Android mobiles and tablets when it officially launches as a cross-play experience.
To celebrate the early access launch, a new gameplay trailer has been released to give explorers a glimpse of what they might find on the game's shores.
Find the Waven PC early access launch trailer here.
In a flooded world where only a few islands have survived the rising waters, you play a seafaring adventurer searching for answers to this great upheaval. Long ago, gods and dragons ruled the world. Today, magic remains… but what of the mythical beings of yesteryear? Embark on the great WAVEN saga and forge your own destiny: choose your character, equip your best spells, and sail from island to island in quest of wealth and glory. Level up your hero and your strategy in this free-to-play tactical multiplayer RPG with unique colorful graphics.
The early access will start with a short narrative prologue, then dive quickly into the WAVEN adventure with more than 250 quests to complete, 17 destinations to visit, 25 heroes to discover, 90 companions to collect, 300 spells to equip, and many, many more mysteries to discover. Players can face off in PvP in the arena or fight side by side as friends.
Certain game features, such as the main quest and island defense, will be available later once the flagship is ready to set sail at the end of 2023.
For more details on what the early access contains, head over to: https://forum.waven game.com/en/41-news/2189-waven-early-access-lifts-anchor-august-16 
After several open alphas and, more recently, a demo version that has already generated valuable feedback from the community, the WAVEN early access is the final decisive step before the definitive game launch at the end of 2023 and will let WAVEN teams test the latest gaming systems.
"This early access is an essential moment for the whole team and a launch pad for the final game release at the end of the year," said Bastien Guers, game producer at Ankama Games. "We are excited to get feedback from players so we can refine the WAVEN experience as much as possible and make it a truly unique adventure for the community."
This early access launch comes with three Founder's Packs which will be available for purchase as soon as the game is released. These packs let players unlock exclusive cosmetics while also supporting the game creators and developers.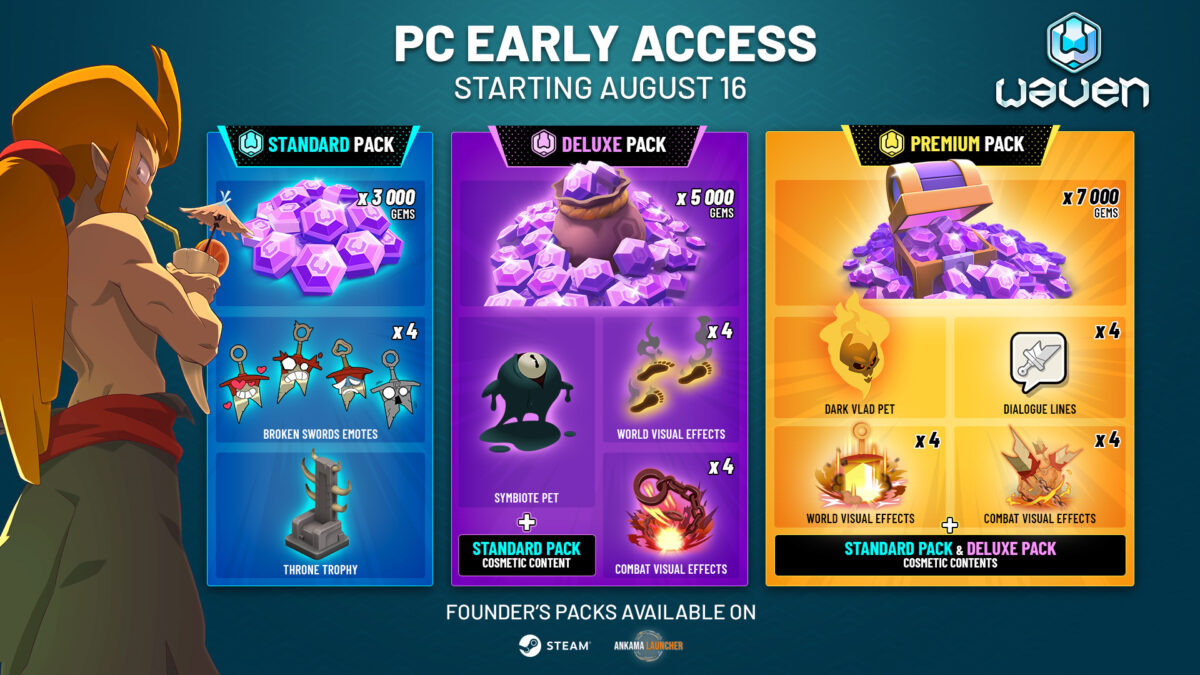 Finally, players can get even more cosmetic items to customize their progression with the free season pass and two paid passes (Gold and Platinum), which offer additional rewards for completing in-game challenges.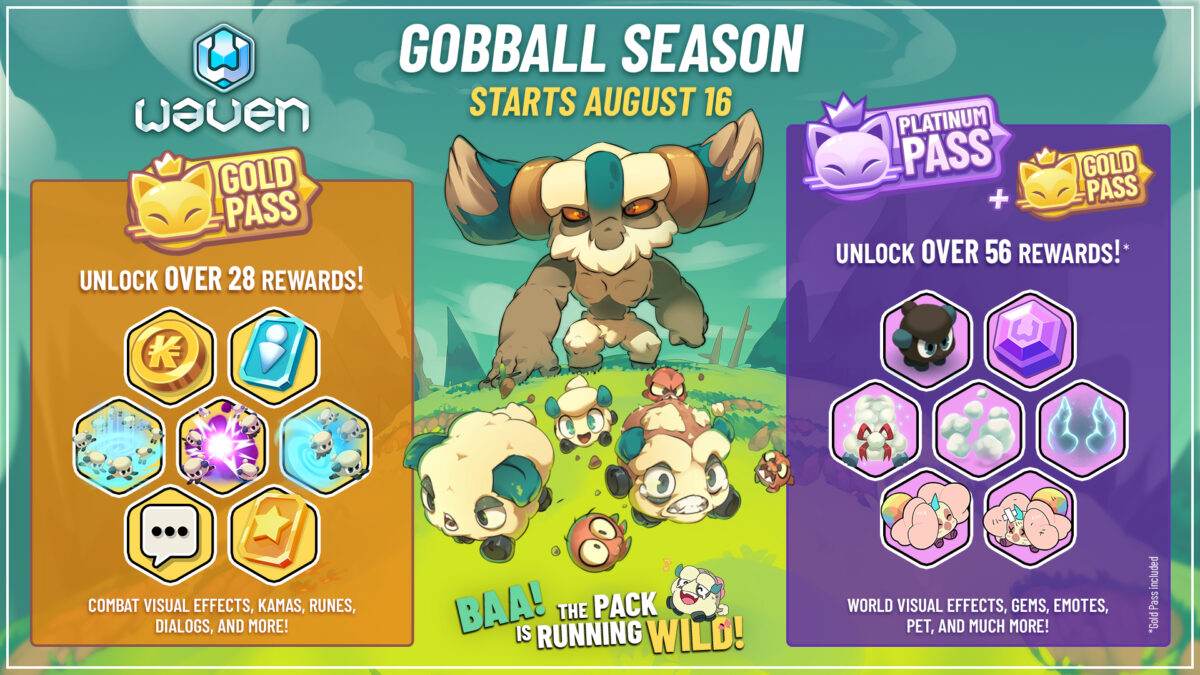 The early access also gives all participants a special FX cosmetic – a halo world visual. This welcome goodie will be available for the full duration of early access until the official release of WAVEN.
The WAVEN early access starts on 16 August on Windows PC and Mac. The game will be released in  its final version at the end of 2023 on Windows PC, Mac, and iOS and Android mobile and tablet  versions. WAVEN is developed by Ankama Games and co-published by Ankama Games and New Tales.
Assets can be found here.  
Players can keep up to date with WAVEN news by subscribing to the newsletter and following the  game accounts on Facebook, Twitter, Instagram and TikTok. 
About the Ankama Group 
Ankama is an independent French company that creates, publishes and distributes works of entertainment worldwide. Following the success of its online game DOFUS in 2004 (more than 100 million accounts created worldwide), Ankama branched out into several different areas and has now become a transmedia group to be reckoned with. From video games to board games, and from manga to anime, it controls the production chain for its creations from A to Z. As the creator of a vast universe called the "Krosmoz", known for its multiplayer online roleplaying games DOFUS and WAKFU and the animated series of the same name, it also produces animated feature films such as DOFUS Book I: Julith and Princess Dragon. Passionately creative, Ankama also designs and develops board games such as Krosmaster Arena, Monster Slaughter and Arkeis; mobile games such as Tactile Wars, King Tongue, Super Nano Blaster and DOFUS Touch; and graphic novels and manga such as Radiant, Shangri-La, Carbone & Silicium, Dans la tête de Sherlock Holmes, DOFUS and Mutafukaz to name just a few. Adopting a transmedia approach, Ankama's teams create universes that they develop through multiple stories in multiple media to offer their loyal communities of players, readers and spectators a full and immersive narrative experience across all popular platforms. At Ankama, every story is unique, but they are all interconnected. In 2020, Ankama broke the European crowdfunding record for an animated series on Kickstarter by raising more than 1.5 million euros to produce the fourth season of WAKFU. In 2023, the company will once again show its creative strength with the release of two animated series – La Dernière Aventure du Comte Lance Dur on ADN and season 4 of WAKFU – and its latest game in the Krosmoz universe, WAVEN.
About NEW TALES  
NEW TALES is an independent publisher and game developer focused on games' DNA & player communities. Shaped by its international background & live games expertise, the New Tales team join forces with their partner game studios, working as one team to unleash new gaming gems. For more information, visit www.newtales.com.