Free-to-play virtual pets game lets players of all ages customize and care for cuddly bears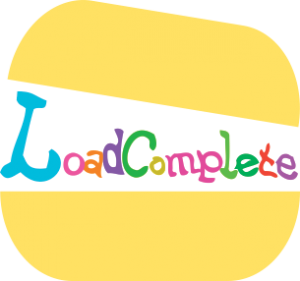 BUNDANG, SOUTH KOREA – April 4, 2012 – LoadComplete, creative mobile and social game developers, today announced the official launch of Bumping Bears, a social virtual pets game for iOS. Previously in Open Beta, Bumping Bears features a variety of fun games and activities for these cuddly creatures and their human Guardians. With over 30 billion(!) combinations of outfits and accessories, there is a unique bear style to match every personality. Bumping Bears is available as a free download with additional purchasable content in the App Store.
In Bumping Bears, players join the colorful and whacky donut galaxy, each taking charge of a customizable donut planet and adopting adorable bear cubs to nurture and raise for a thirty day span. Guardians take their bears to work, feed them, tickle them, photograph them, and send them on location-based adventures. The game no longer requires a Facebook login, so players of all ages can raise their very own virtual bears.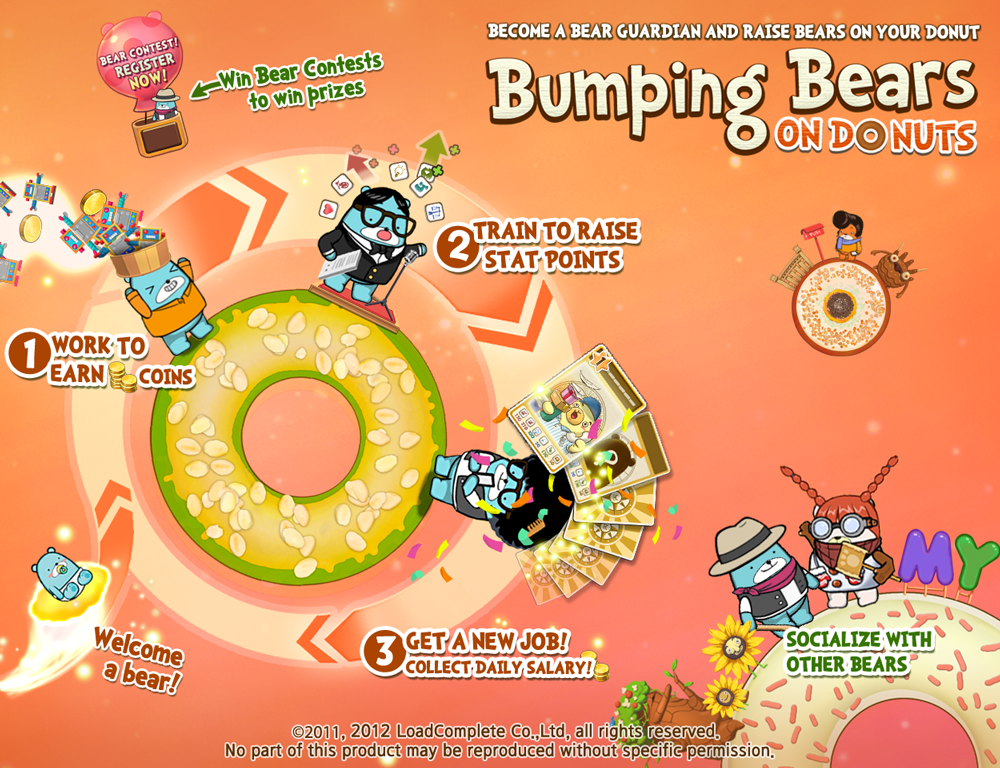 Bears are promoted to jobs with better salaries and greater employee benefits when they increase their skills. As bears improve their salaries, Guardians can use extra cash to purchase additional outfits for their bears and customize their donut planet with items ranging from palm trees to enormous gummy bear statues.  And if Guardians and their bears are feeling romantic, they can purchase gifts for friends or use geolocation to find other Bumping Bears players in their area. Meet up with other Guardians so your bears can hang out and play games together. Will your bear be charming enough to impress a potential date?
Bumping Bears features:
Nurture bears and collect coins –Earn coins by playing mini-games and completing quests like cleaning house, conducting photo shoots, snacking and napping  to earn additional coins — visit your friend's planet to earn even more!
Climb the Career Ladder- Train your bear and boost their skills to impress the Bear gods – pass the job promotion test to further your bears' career and even earn special decorations and costumes! Then you can customize your donut planet and show it off to friends.
Bear Contests! – For your bear to become famous, they'll have to eat well, train hard and beat friends in contests of luck and skill. May the best bear win!
Raise Bears that are Uniquely You! – No two bears are alike, and with clothing, accessories, and costumes galore, your bear can reflect a huge range of personalities. Pirate on Tuesday? Dapper gentleman on Wednesday? There are billions of silly costume possibilities.
Better with Friends! – Connect with Facebook to find more friends and share bear photos!  Check out the Bumping Bears Facebook page to find out about new events and updates!
Bumping Bears is a free download on the App Store.
Watch the trailer on YouTube.
Download the press kit for Bumping Bears here.
About LoadComplete
Founded in 2009, LoadComplete was created when a variety of game industry professionals joined together to work full-time creating original games. LoadComplete develops mobile and social games any gamer can enjoy. Based in Bundang, South Korea, the company is passionate about providing users with interactive games that reflect the fun and creative spirit of the people who power LoadComplete. For more information, please visit www.loadcomplete.com
Official Website | Facebook | Twitter | YouTube
---
Media Contact:
Phillip Klugman, TriplePoint for LoadComplete                                                            +1 (415) 955-8500                                                                 pklugman@triplepointpr.com