PARIS – April 13, 2012 –
War goes on! Wargame: European Escalation, the new real-time strategy hit praised by critics and players alike, today offers its first DLC "New Battlefields," which is not only generous with the content offered, but also entirely free! This is a way to thank the already large community of players who make of Wargame one of the most played and most downloaded strategy game on the Internet since February.
This announcement comes with 3 exclusive images, illustrating one of the novelties brought by this DLC free for all Wargame players.
This first free DLC for Wargame: European Escalation offers 7 new multiplayer maps! These brand new battlefields will challenge the veteran commanders! Two of these maps are built asymmetrically, in order to offer Attack/Defense games by giving a natural role to each team. Hold or take that position at all cost!
The DLC also introduces a new skirmish AI, allowing 1 up to 7 players to face the computer. Willing to test your Clan's newest tactics? Or just have some quick fun with friends without the pressure of the competition? Team up with other players and jump into the action against a computer-controlled opponent!
Lastly, communication, coordination and all your team tactics are optimized, thanks to the new Flare system! Get the attention of your teammates by firing one of the preset Flares, or one with a custom message, which you can see on the 3 screenshots we invite you to discover today!
This is also the occasion for us to announce that Wargame: European Escalation is now the subject of an exceptional offer on Steam, with an incredible discount of 40%! From today until Monday 16th of April, this is the perfect opportunity for everyone who was still hesitating to step forward and acquire this exceptional strategy game!
About Wargame: European Escalation
Wargame: European Escalation, the new real time strategy game from Eugen Systems, a specialist of the genre and developer of the criticallylauded Act of War: Direct Action, and more recently R.U.S.E.™.
Wargame: European Escalation is built around depth and reflection, the key elements of classic wargames. Above solid foundations, Eugen Systems builds an impressive list of features and enhancements in order to provide a unique and innovative gaming experience to all real-time strategy fans.
Wargame: European Escalation features intense real-time battles, stunning graphics, and the amazing IRISZOOM™ system, which allows a continuous zoom from a global view of the map to the heart of the action. With real strategic gameplay, rich content, integration of EugenNet© and its numerous online services, Wargame: European Escalation will unite all the world's biggest strategy fans.
Set in the rarely explored period of 1975-1985, Wargame: European Escalation pits NATO (USA and Western Europe) against the Warsaw Pact (Soviet and Eastern European countries) in battles that explore "what could have been." The specter of nuclear warfare loomed large over the real Cold War, but this catastrophic outcome was the ultimate last resort as everyone knew that the first one to start nuclear hostilities would end up wiped out just the same. Large, armored offensives through Europe would certainly have been the core of this hypothetical war; and this is what the game's explosive campaign takes you through!
Wargame : European Escalation is available for PC in retail and online stores.
About Focus Home Interactive
Founded in 1996, Focus Home Interactive is an independent French publisher based near Paris, France. Known for the quality, diversity and originality of its catalogue, Focus has published and distributed original titles that have become benchmark titles worldwide – such as Blood Bowl, Sherlock Holmes, TrackMania, Runaway and also Cities XL and Cycling Manager.
In 2012, Focus will publish ambitious games such as Wargame: European Escalation, the new real time strategy game from the creators of « R.U.S.E. »™; Game Of Thrones™, the role-playing game adapted from the bestseller saga written by George R.R. Martin; The Testament of Sherlock Holmes™ on PC and for the first time ever on consoles; Of Orcs and Men, a great roleplaying game featuring Orcs and Goblins; Confrontation®, the video game adaptation of the famous board game universe by Rackham and also the official video game of Le Tour de France.
Official Website | Facebook | @FocusHome
About Eugen Systems
Eugen Systems, founded by the Le Dressay brothers, has specialized in real-time strategy games on PC and next-generation consoles (Xbox 360 and PS3) for 10 years.
Based in Paris, Eugen Systems released Act of War: Direct Action, one of the most acclaimed RTS games in 2005, and last year R.U.S.E.™, considered by many to be the best RTS ever released on consoles..

Official Website
Media Contact
Erin Fan, TriplePoint for Focus Home Interactive
efan@triplepointpr.com
(415) 955-8500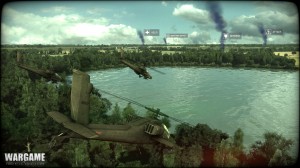 Assets
Download the screenshots (4.93 MB)