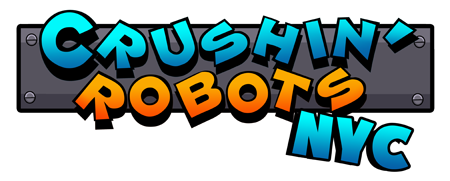 New Bots and Bolts Bring More Mayhem in the Fight Against the Robot Invasion
NEW YORK – August 15, 2013 – New York City's heroic construction worker today gains new tools to fight new baddies as Falling Objects Entertainment releases a content-packed update for its iOS defense game, Crushin' Robots – NYC. In Crushin' Robots, players are the city's last line of defense against an evil robot invasion, turning normal construction equipment, such as nail guns, propane tanks and wrecking balls, into instruments of destruction in order to keep the robots at bay.
Get Crushin' Robots – NYC, complete with brand-new content, for FREE from the App Store at https://itunes.apple.com/us/app/crushin-robots-nyc/  id568075534?ls=1&mt=8

The game now features three new robots for added pandemonium, two new weapons to arm you in battle, an in-game task system, a new barge power-up that protects robots against heavy fire, and a skip stage for players to move to either the last completed stage or two earlier stages. With today's update, the fight to reclaim the Big Apple has more bolt-busting mayhem than ever before. Furthering the fun around the globe, Crushin' Robots ­– NYC is now available in Italian, Russian, Turkish, Brazilian Portuguese, and Korean.
Crushin' Robots – NYC features:
Endless waves of robots that progressively increase in difficulty
10 types of robot baddies to keep you on your steel-covered toes
12 unique weapons and power-ups from the construction yard
A Scrap Meter that, once filled with the nuts and bolts of the enemy, calls in speeding boats, trucks and other bonus attacks for massive destruction
A Skip Stage that allows the player to skip ahead to either the last completed stage or two earlier stages
A protective barge, which protects robots from incoming blasts before they reach land
A task system that allows players to accomplish new challenges and earn rewards and achievements
Scrap for real-money purchase in the Workshop so you can up the ante in a hurry
Universal support for iPad, iPhone and iPod touch
High-resolution Retina display graphics
Game Center integration to compare scores with friends, earn achievements and climb global leaderboards
Follow Crushin' Robots – NYC for the latest updates:
Twitter: https://twitter.com/crushinrobots
Facebook: https://www.facebook.com/CrushinRobots
Assets

Check out the trailer on YouTube and download the press kit.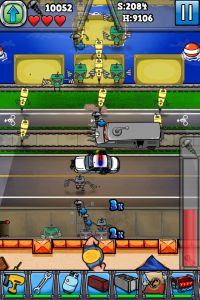 About Falling Objects Entertainment
Falling Objects is the brainchild of founder and CEO Joe Zito, a veteran of the film and television industry now dedicated to producing action-packed mobile games. Their debut game, Crushin' Robots – NYC, is the first in a planned series of titles featuring epic robot battles around the world.
Official Website |  Facebook | @CrushinRobots
---
Media Contact
Valerie Turpin, TriplePoint
212-730-9744
vturpin@triplepointpr.com