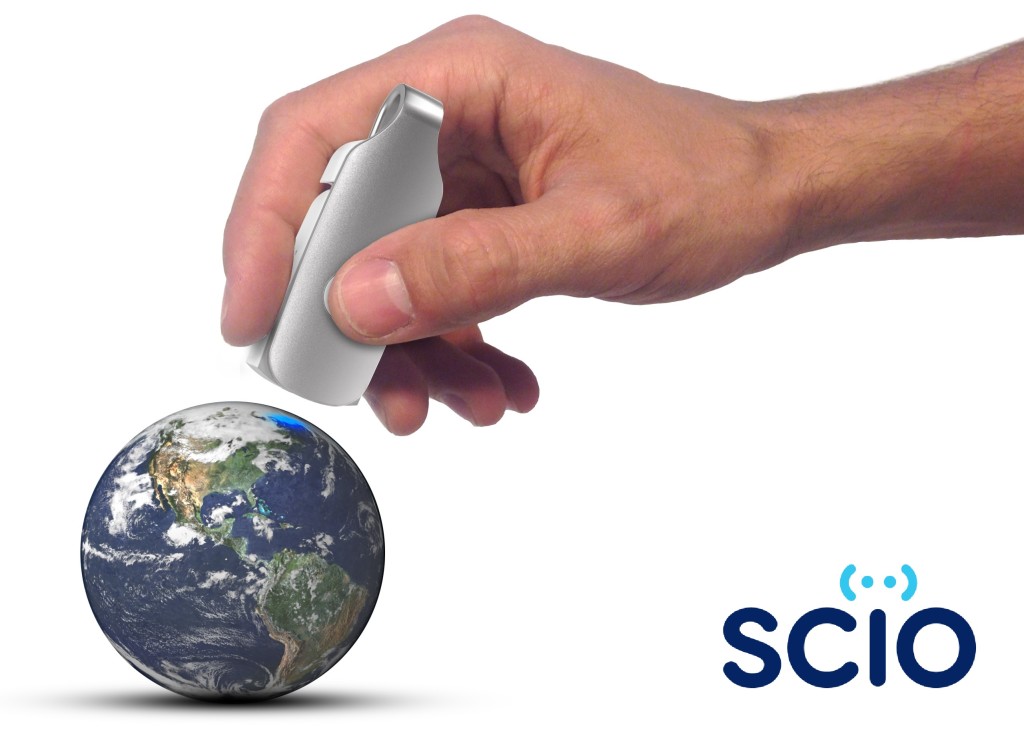 Pocket-Sized Scanner Reads Molecular Fingerprint of Food, Pharmaceuticals, and More 
MENLO PARK, Calif. and TEL AVIV, Israel – April 29, 2014 –Consumer Physics today unveiled SCiO, a handheld sensor that scans the molecular fingerprint of physical matter and instantly provides useful information about its chemical makeup. SCiO delivers real-time results to its mobile application on the user's smartphone via Bluetooth LE.
"Smartphones give us instant answers to questions like where to have dinner, what movie to see, and how to get from point A to point B, but when it comes to learning about what we interact with on a daily basis we're left in the dark," said Dror Sharon, CEO of Consumer Physics. "We designed SCiO to empower explorers everywhere with new knowledge and to encourage them to join our mission of mapping the physical world."
To generate greater awareness among early adopters of consumer technology, the company is launching SCiO through a Kickstarter campaign today. Early backers can preorder the device for $149. To learn more about SCiO and to pre-order a unit today, please visit the crowdfunding campaign on Kickstarter at https://www.kickstarter.com/projects/903107259/1065249597?token=08647a18.
When the product ships to consumers this fall, SCiO will include apps to help users identify the composition of food, medication, and plants. The food app delivers macro nutrient values (calories, fats, carbohydrates, and proteins), produce quality, ripeness, and spoilage analysis for various foods, including cheeses, fruits, vegetables, sauces, salad dressings, cooking oils, and more. SCiO can also identify and authenticate medication in real-time by cross-checking a pill's molecular makeup with a database of medications. Finally, SCiO can analyze moisture levels in plants and tell users when to water them.
Consumer Physics will also support an Application Development Kit for third-party developers to start exploring their world. Developers can design and custom-build their own unique smartphone apps or physical form factors. The materials SCiO can analyze are endless, including cosmetics, clothes, flora, soil, jewels and precious stones, leather, rubber, oils, plastics, and even human tissue or bodily fluids.
Consumer Physics has taken near-IR spectroscopy, a proven technology behind expensive laboratory-grade spectrometers, and designed SCiO from the ground up to be mass-produced at low cost. When light shines on a sample, it excites the sample's molecules and makes them vibrate in a unique way. The wavelength-dependent light absorption of the molecules creates optical signatures according to an object's chemical composition. When SCiO collects the light reflected from a sample, it breaks it down to spectral components for analysis. Sent to the cloud via Bluetooth connection, the spectrum is analyzed by advanced algorithms in real-time. SCiO translates the results within a matter of seconds, delivering relevant information about the sample's molecular makeup to your smartphone.
"With SCiO, Consumer Physics is launching their first game-changing consumer product. I believe this product will have greater impact than the USB flash-drive! Its near future and far future potential impacts on people's life are tremendous," said Dov Moran, the first seed investor in the company. Dov is the inventor of the USB flash-drive, and founder and CEO of Comigo, the future TV company. Previously Dov was founder of Modu, the modular phone company and of M-Systems (NASDAQ: FLSH), which was acquired by Sandisk for $1.6B.
For more information on Consumer Physics and SCiO, please visit the SCiO crowdfunding campaign on Kickstarter and the Consumer Physics website at http://www.consumerphysics.com/myscio.
To stay informed throughout the SCiO crowdfunding campaign, please follow us on Twitter and Facebook:
About Consumer Physics
Consumer Physics is a technology startup whose mission is to empower people with a better understanding of our physical world. The company's first product, SCiO, is an affordable and sleek molecular sensor that launched on Kickstarter in April 2014.
Consumer Physics was founded by Dror Sharon and Damian Goldring in 2011. It is backed by Khosla Ventures, a leading Silicon Valley venture capital firm that offers venture assistance, strategic advice and capital to entrepreneurs (http://www.khoslaventures.com). Early investors include Dov Moran, founder of Comigo, the future TV company (http://www.comigo.com) and the inventor of the USB flash-drive, and other leading angel investors. It has also raised money through OurCrowd, a hybrid VC-equity crowdfunding platform for accredited investors only who wish to invest in global early stage companies (https://www.ourcrowd.com).
The company's Israel-based R&D team is comprised of physicists, chemists, electrical engineers, and computer and data scientists, most of whom have advanced science degrees and several with PhDs. Consumer Physics team members are affiliated with top schools and research institutions such as MIT, Caltech, Harvard, Stanford, Royal College of Art, Weizmann Institute, The Technion – Israel Institute of Technology, and Tel-Aviv University.
Visit the company at http://www.consumerphysics.com/mySCiO
---
Media Contact
Andrew Karl
TriplePoint PR, for Consumer Physics
(415) 955-8500
consumerphysics@triplepointpr.com