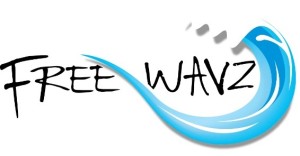 Entirely Wire-Free Smart Earphones Built-In Fitness Monitoring for Athletes
MELBOURNE, FL – June 23, 2014 – FreeWavz today unveiled the latest in wearable technology, wire-free smart earphones with integrated medical-grade performance monitoring technology.  These sleek, ear-hugging devices eliminate distractions during workouts, seamlessly delivering audible fitness updates to athletes for unstoppable performance. Under development for the past five years, FreeWavz is nearing the start of commercial manufacturing and retail distribution. The company has initiated a Kickstarter crowdfunding campaign to generate awareness among early adopters and fitness enthusiasts.
To learn more and support the company's campaign, please visit their Kickstarter.
"Headphones currently on the market don't meet the requirements of today's athletes, and many variants actually pose risks to long-term hearing," said FreeWavz founder, and ear, nose, and throat surgeon Dr. Eric Hensen. "Leveraging the latest medical technology and cutting-edge design, we believe our new product will empower athletes of all abilities to get more from their exercise routines in a safe and unrestricted manner."
On-Ear Fitness Monitoring & Critical Safety Features
Within each lightweight FreeWavz device are medically proven health-tracking technologies, including pulse oximeters and three-axis accelerometers. These systems track a variety of fitness metrics such as heart rate, calories burned, distance traveled, duration of workout, and oxygen saturation. Equipped with Bluetooth technology, FreeWavz beams fitness data to the user's mobile device, and provides these health stats to the user through real-time audible alerts. Users can customize the frequency and content of their alerts by activity, opting to be updated at regular intervals or when they have reached their target metrics.
Unlike earbuds, which cause discomfort and a muffled sound by being jammed or twisted into the ear canal, FreeWavz features a unique conical sound delivery mechanism wrapped in memory foam, which projects sound up and into the ear canal. Working with the shape of the human ear, this design allows the ear canal to "breath" and delivers crystal clear sound quality. Other FreeWavz features include:
Adjustable environmental listen-through for runners and cyclists on busy streets
Optional ear safeguards that monitor decibel projection to protect against hearing loss
Independent volume control and a six frequency equalizer for each ear
One-touch connection to music, fitness alerts, phone calls, calendar, and messages
Water and sweat resistant
Battery life between 6-8 hours
Compatible with Android and iOS
Application Development Kit for third-party developers
At the conclusion of a successful Kickstarter campaign, FreeWavz will begin order fulfillment with shipments planned beginning this October.
Assets
For more information, download the press kit here.
About FreeWavz
FreeWavz is a fitness-focused consumer electronics company developing hearable technology and smart wearables. Based out of Orlando, Florida, the FreeWavz leadership team includes industry specialists in manufacturing, technology, and design. Early supporters can preorder FreeWavz for $179 through the company's Kickstarter campaign page. FreeWavz will also support an Application Development Kit for third-party developers to broaden hearable technology applications in fields ranging from health monitoring to linguistic translation.
For more information, visit their website or Twitter.
---
Media Contact
Thea Briggs
TriplePoint for FreeWavz
freewavz@triplepointpr.com
(212) 730-9744