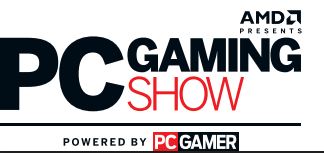 Live Event on June 16 Celebrates the Games, Tech and People Behind PC Gaming's Golden Age; Cliff Bleszinski, Blizzard Entertainment, Cloud Imperium Games, Dean Hall and Tripwire Interactive to Appear
AMD, Bohemia Interactive and Digital Storm to Sponsor
LOS ANGELES — April 30, 2015 — "AMD Presents The PC Gaming Show Powered by PC Gamer," a first-of-its-kind event for developers, publishers, hardware companies, press and fans, will take place in Los Angeles on Tuesday, June 16, 2015. Presented by AMD, organized by PC Gamer, and streamed live in partnership with Twitch from the Belasco Theater, the show will bring the PC gaming community together under one roof for breaking news and perspective from some of the biggest names in the industry. Hosted by Sean 'Day[9]' Plott, the first announced participants of the show include Dean Hall (DayZ), Blizzard Entertainment, Cliff Bleszinski (Boss Key Productions) and Cloud Imperium Games (Star Citizen).
For more information and to register for press access, please visit: www.PCGamingShow.com and follow #pcgamingshow.
This is an incredible time for PC gaming, with more powerful and affordable hardware than ever before, thousands of games available through Steam, Origin and other platforms, and millions of viewers regularly watching esports events. The PC Gaming Show is a call to the PC community to come together to celebrate this era, and the innovations that lie ahead.
"At AMD, our focus is on driving gaming innovation in all possible ways. The PC Gaming Show embodies the spirit of innovation, openness and community that's part of our DNA – delivered by gamers, for gamers," said Matt Skynner, Corp. VP & General Manager, Computing and Graphics at AMD. "The time is right for a PC-focused event in the week of E3 and we're honored to be part of bringing the industry together."
Organized by PC Gamer, with support from Presenting Partner, AMD (NASDAQ: AMD), the inaugural PC Gaming Show will see participation from a range of game developers, including Blizzard Entertainment, Bohemia Interactive, Cloud Imperium Games, Tripwire Interactive, Square-Enix, Obsidian Entertainment, Paradox Interactive and Humble Bundle among many others.
"We're living in a golden age of PC gaming, but unlike other platforms the PC has no format holder, no marketing department, and—until now—no event during E3 week purely devoted to it," said Tim Clark, Global Editor-in-Chief, PC Gamer. "We think a show like this, which brings together people from every corner of PC gaming to celebrate the exciting things happening, is long overdue. We hope you'll join us, in person or on stream, to be part of it."
About PC Gamer
PC Gamer is the global authority on PC games. For more than 20 years, it has delivered unrivaled coverage, in print and online, of every aspect of PC gaming. Our team of experts brings readers trusted reviews, component testing, strange new mods, under-the-radar indie projects and breaking news around-the-clock from all over the world.
PR Contact
pcgamingshow@triplepointpr.com
415-955-8500