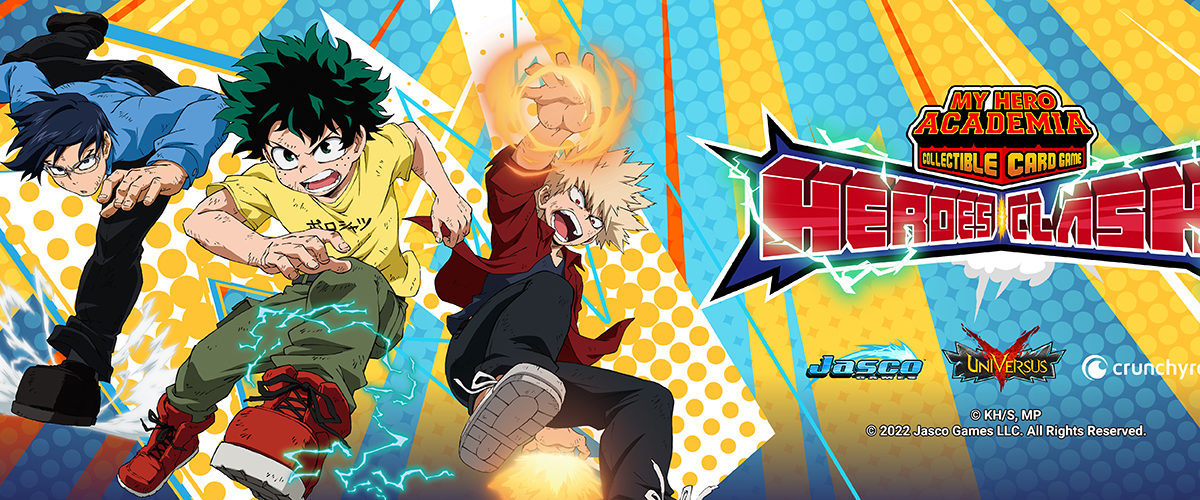 Iconic hero students of Class 1-A receive new rare alternate cards
LAS VEGAS, NV – OCTOBER 6, 2022 – Going into the third set of My Hero Academia CCG, Heroes
Clash introduces a brand-new rarity: the Chrome Rare. This rarity will include five alternate art character
cards in gorgeous dual layered metallic-inspired foiling. The character selection includes some of the
staple students of UA's Class 1-A:
Izuku Midoriya (II)
Katsuki Bakugo (II)
Tenya Iida (III)
Shoto Todoroki (I)
Eijiro Kirishima (I)
These cards will be a staple in any player's collection binder as the set has a limited print of 100 of each
character, with every Chrome Rare having its own unique serial number printed at the bottom of the card.
Jasco is always looking at new ways to elevate the pack opening experience for their players and believe
Chrome Rares will serve as an exciting collectors piece that will provide an additional thrill to opening
every pack. Chrome Rares are exclusive to the First Edition printing of Heroes Clash.
My Hero Academia CCG – Heroes Clash prereleases internationally on October 14th with the full release
on October 21st.
Assets for Heroes Clash and the new Chrome Rares can be found here.

---
About Jasco Games
Based in Las Vegas, Nevada, Jasco Games is a premier designer and publisher of tabletop games, collectible card games, board games, and more. Established in 1998, Jasco Games brings big screen classics and pop culture icons to life – and to your game tables! We're on a constant mission to create high quality games that are true to the source material and packed with layers of fun and fresh concepts! With a worldwide reach and a talented and diverse team, Jasco Games delivers superior product design and services. Jasco Games has joined forces with industry leaders Capcom, Warner Brothers, 20th Century Fox, Paramount, Toei Animation, Sunrise Animation, Funimation, SNK Playmore, Level 99 Games, and more. These partnerships and our unwavering commitment to quality are at the heart of our reputation as author and producer of the best gaming experiences
About Asmodee
Asmodee, an Embracer company since March 2022, is an entertainment leader specialized in boardgames, committed to bringing people together through great games and amazing stories.Thanks to its global and passionate workforce of over 2300 people, players around the world enjoy one of the largest boardgame IP catalog with CATAN, Ticket to Ride, Dobble/Spot it!, Exploding Kittens and 365 more across a variety of digital and physical platforms.
Headquartered in France (Guyancourt), Asmodee operates across Europe, North America, South America and Asia.
For more information : https://corporate.asmodee.com/