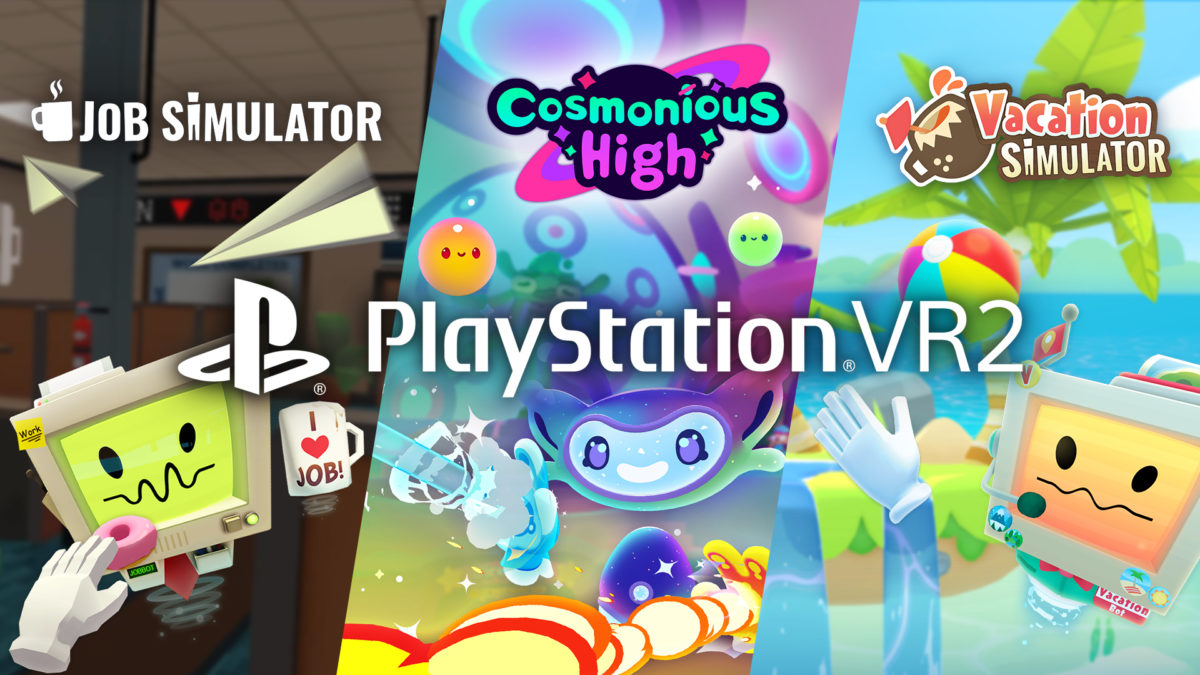 Job Simulator and Vacation Simulator include their Infinite Overtime and Back to Job content updates, all 3 titles optimized for Sony's next generation VR headset
AUSTIN, TEXAS – February 22, 2023 – Owlchemy Labs, the VR studio behind some of the most beloved and award-winning VR titles, announced today that Cosmonious High, Job Simulator, and Vacation Simulator are now available on PlayStation® VR2 (PS VR2). Cosmonious High, Job Simulator, and Vacation Simulator can be purchased on the PlayStation store for $29.99 USD, $19.99 USD, and $29.99 USD respectively. Players who already own Job Simulator and Vacation Simulator on PlayStation® VR will automatically receive a free upgrade to the PS VR2 versions.
All three titles feature PS VR2 enhancements, including:
Gorgeous visuals rendered in 4K at 90fps to immerse players in vibrant and responsive worlds.
Improved controller and HMD haptics transport players to new worlds, enabling them to feel the wind, water, balls of paint and more from their hands to their heads.
Shorter load times allow for a seamless gaming experience with no lag.
Sony's audio spatialization technology provides a truly immersive audio experience, enabling players to hear the distinct sounds of the worlds all around them, adding emotion and atmosphere to gameplay.
"PS VR2 provides an excellent platform for our games to come to life," said Andrew Eiche, COOwl of Owlchemy Labs. "The improved graphics, haptic feedback, and audio spatialization all combine to create a truly immersive VR experience for players. We wanted to thank our fans who bought and played the game on PS VR with the free upgrade so they, too, can experience the next gen enhancements."
Cosmonious High is an alien adventure where players take the role of a Prismi, a unique alien species that can adapt to any situation, who crash lands on their first day of high school. The school is troubled by mysterious malfunctions and chaos. As a Prismi, players adapt extraordinary alien abilities to restore Cosmonious High to its former glory while also taking classes and making friends with a quirky cast of characters.
Job Simulator is one VRs original viral multi-platinum hits, set in a world where robots have replaced all human jobs. Humans that want a throwback to the old days of working can experience a series of job simulations—with a few humorous interpretations of how humans used to work. Job Simulator on PS VR2 includes the "Infinite Overtime" free content update, allowing players to work a never-ending night shift with endless tasks for each job.
Vacation Simulator takes players to "Vacation Island" where the robots discover the true meaning of "time off." The island is complete with everything a simulated dream vacation needs, including activity-rich destinations and a colorful cast of bots. Vacation Simulator on PS VR2 includes the "Back to Job" free content update, putting players behind Vacation Island's Poolside Cabana to serve vacationing Bots.
For more information about Owlchemy Labs, visit their official website here. Assets for all three titles on PS VR2 can be found here.
---
About Owlchemy Labs
Founded in 2010 and acquired by Google in 2017, Owlchemy Labs is an XR studio with a passion for polished, playful, and innovative VR games and experiences. Owlchemy's titles include the award-winning, multi-platinum VR launch title "Job Simulator", the Emmy-nominated "Rick and Morty: Virtual Rick-ality", the top ten VR title "Vacation Simulator" and their newest VR title "Cosmonious High". With the mission of making VR for everyone, Owlchemy focuses on creating absurdly funny games and experiences in their signature style with ground-breaking accessibility that welcomes all players. Owlchemy continues to share its pioneering experiments and VR best practices through blog posts, white papers, and talks around the globe.
More information about Owlchemy Labs can be found at https://owlchemylabs.com.
Media Contact
TriplePoint on Behalf of Owlchemy Labs
owlchemy@triplepointpr.com