Mobile care leader innoPath's new app targets health and performance issues; learns from individual usage patterns to provide the best imaginable user experience
SUNNYVALE, Calif. – Sep. 30, 2013 – innoPath Software, the leading provider of technology driving the support and care of mobile devices, today announced Mobie, the first intelligent smartphone app that acts as a companion that looks out for the mobile user and maximizes their mobile experience. Available today on Google Play, Mobie is a powerful yet simple application that delivers a new level of self-care and eliminates most device health, performance and overall user experience problems faced by consumers with Android phones. As a result, consumers with Mobie installed can avoid the pain of lengthy, frustrating customer support calls. To download Mobie from Google Play, visit: https://play.google.com/store/apps/details?id=com.innopath.mobilemd
Mobie, which means Mobile + Intelligence + Experience, is unique in its ability to adapt and grow in its intelligence over time, allowing it to become the best possible companion for its device owner. Mobie is also an integral part of the Android ecosystem, as it automatically leverages the knowledge generated by the Mobie user community to expand its ability to serve its mobile user, as well as improving the experience for the greater Android community.
"Mobie was conceived to address the frustration prevalent across the Android smartphone community. Consumers are tired of repeated calls to customer support agents that typically result in long call times with reps that have little knowledge of how to solve their device issues," said John Fazio, CEO of innoPath. "The existing care model is clearly broken. With Mobie on board, consumers now have a new companion, constantly monitoring the health of the device and making recommendations that culminate in a better overall experience. As the most important personal accessory for our modern lifestyle, Mobie is the perfect companion to get the best experience possible from an Android smartphone."
Mobie's charter is simple: keep the device in the best health, drive the best performance and provide the best imaginable experience to the mobile user. Mobie ensures Android is running optimally by performing real-time diagnostics, identifying anomalies, and taking action to prevent and resolve most potential smartphone problems. Mobie constantly learns and adapts to the mobile user's behavior, helping them go mobile for longer periods of time with fewer headaches. It is also aware of the real-world cost to the consumer of data usage and other smartphone features, and is always looking to enrich the user's experience while getting them the most from their smartphone.
Simply installing and running Mobie on a device can potentially eliminate hours in wasted time on customer support lines and avoid joining the over 60 percent of returned devices categorized "no fault found," and reduce the nearly $2 billion each year spent on replacing and repairing Android devices.
Key features of Mobie for Android:
Simple installation and no fidgeting, an app that works intelligently with little management from the user.

Comprehensive security features such as protection from malicious, rogue, and "malware" apps.

Lock and locate your phone when it is lost or stolen.

Extend battery life with intelligent modem management (Bluetooth, Wi-Fi) based on location and settings adjustments during low battery states.

Identify and reduce unnecessary data usage through smart Wi-Fi switching.

Boost the performance of apps based on usage.
Mobie is a part of innoPath's mobileMD platform; a comprehensive solution announced earlier this year that brings preventive care to smartphones. While Mobie manages and optimizes the smartphone device, mobileMD integrates all care channels into a tightly integrated platform to provide solutions for device manufacturers and wireless carriers who can now deliver better customer care solutions to their subscribers. mobileMD also integrates innoPath's proprietary device update technology, which delivers software updates over-the-air and is used by many of the biggest names in wireless communications, including Qualcomm, Samsung, LG, Verizon, SoftBank, KDDI, Huawei, ZTE, China Telecom, and others.
Follow Mobie and innoPath on Twitter at @mobie4android and @innopath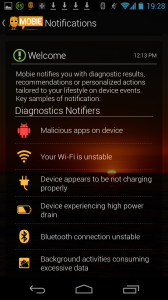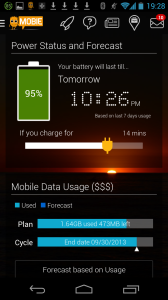 Assets

About innoPath
innoPath technology drives the support and care of mobile devices in an always-on world. Using mobileUpdate, mobileMD, and activeCare2, mobile operators and device manufacturers facilitate update, diagnose, and fix devices over-the-air. The benefits of using innoPath technology include avoided device recalls and returns; avoid support calls, improved first call resolution for issues related to Android and iOS devices, and increased subscriber satisfaction. innoPath's customer list includes Intel, Fujitsu, Verizon, KDDI, China Telecom, Tata DoCoMo, LG, Nokia, and Samsung, among others. For more information, visit www.innopath.com.
---
innoPath PR Contact
Jenna Nyblom
+1 (408) 571-9794
jnyblom@innopath.com