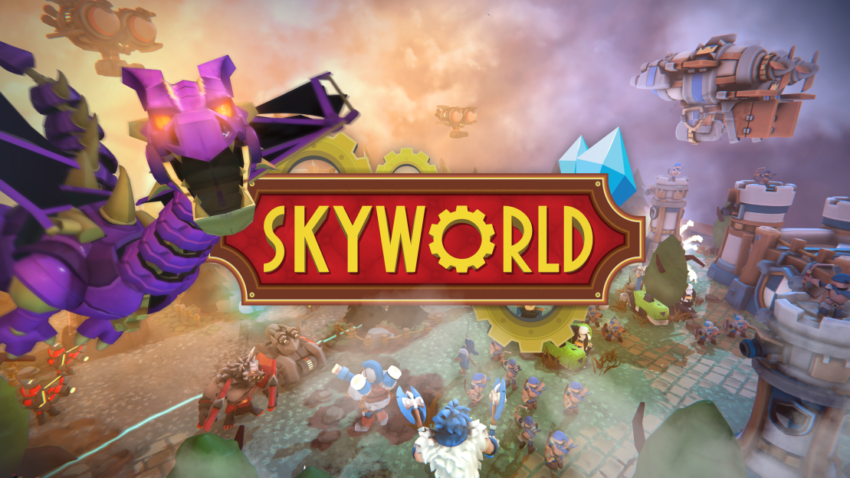 Deftly command a vast army to claim strategic victory on the VR battlefield
ROTTERDAM, NL – March 13, 2019 – Vertigo Games and Wolfdog Interactive have today announced that the award-winning VR strategy game, Skyworld, will be launching for PlayStation VR on March 26, 2019, adding new player-progress features. By melding turn-based strategy gameplay with real-time battle scenarios, Skyworld gives players the chance to control a kingdom at war in VR against friends online or within solo campaigns.
Watch the action unfold in our latest trailer: youtube.com/watch?v=3h3yfqpzWuk
The launch of Skyworld on PlayStation VR brings all-new features into the mix, allowing players to champion their achievements in-game. With a persistent leveling system, players can earn XP in single and multiplayer matches and from daily challenges, with special avatars waiting to be unlocked. Competing online can win players a spot on the brand-new Skyworld PlayStation VR leaderboards.
Players control the tides of war with a unique hybrid gameplay system of turn-based management, deck building, and fast-paced, real-time battles. By harnessing a strategic combination of the 16 available units, Skyworld players can build a deadly and specialized army with everything from archers and snipers to siege tanks and flying fortresses.
Before conquering friends and foes online, players are invited to wage war in a full single player campaign and recruit an army for a royal conquest to defend the universe. Skyworlds have found prosperity thanks to the magical cores at their center, but demons seek to control that power for themselves. Players must outwit, out-maneuver and out-plan their opponents to save the realm once and for all.
# # #
Assets:
Trailer: https://youtu.be/3h3yfqpzWuk
Press Kit: https://app.box.com/s/j9fatxnkzv187mam992de59jpt4je7nj
Note to the editor:
Review keys are now available. Please contact Aïsha Kuipers at Vertigo Games to request pre-launch access to the game on PlayStation VR.…
About Skyworld
Claim command over the VR battlefield! Skyworld puts you at the helm of a kingdom at war in VR. Put the power of your own full army – even dragons – at your fingertips, conquer all Skyworlds in a royal campaign, and wage war against friends online. This is wargaming as it was meant to be played. http://skyworld-game.com
About Vertigo Games
Founded in 2008, Vertigo Games is a game developer and publisher that since the start of the modern VR era has exclusively developed and launched full-feature games for VR. The company is best-known for the platinum-selling VR FPS Arizona Sunshine, the mind-bending VR adventure A Fisherman's Tale, and the award-winning VR strategy game Skyworld. http://vertigo-games.com
About Wolfdog Interactive
Wolfdog Interactive is a Dutch game development studio specializing in Virtual Reality. Founded back in 2014, the studio was one of the first companies to fully focus on the creation of VR entertainment games. We use all our VR knowledge to bring you the most immersive and interactive experience possible, with games that are designed from the ground up for VR. http://wolfdog-interactive.com
…
Press Contact
Vertigo Games
Aïsha Kuipers
P.O. Box 21300
3001 AH Rotterdam
The Netherlands