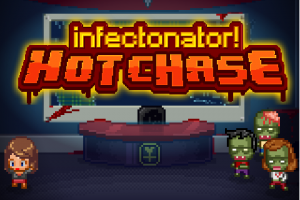 The Addictive Chain-reaction Game Returns with a Lovable Vengeance
IRVINE, CALIFORNIA – September 12, 2013 –  Toge Productions, the masterminds behind the zombie apocalypse Infectonator action-strategy game we'd die to play, today launched the side sequel Infectonator Hot Chase. Published under Armor Games, whose titles Kingdom Rush and The Last Stand: Dead Zone have become global sensations, Infectonator Hot Chase amps up the apocalypse by letting the player rule the mayhem in a quest to dominate the world!
Infectonator Hot Chase is available for FREE on both iOS and Android devices.
iOS: https://itunes.apple.com/us/app/infectonator-hot-chase/id688671950
Android: https://play.google.com/store/apps/details?id=air.com.armorgames.hotchase
View the game trailer here:  http://www.triplepointpr.com/dl/ArmorGames/hotchase%20trailer.mp4
Continue reading The Zombie Infection You'll Kill to Spread – Infectonator Hot Chase Free on iOS and Android!